---
Fright Night (2011)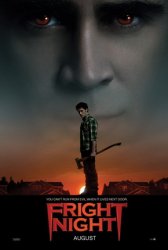 Starring: Anton Yelchin, Colin Farrell, Toni Collette, David Tennant, Imogen Poots, Christopher Mintz-Plasse
Director: Craig Gillespie
Release Date:

August 19th, 2011
Release Date:

2nd September, 2011
Running Time: 106 Mins
Synopsis: A remake of the 1985 original, teenager Charley Brewster guesses that his new neighbor Jerry Dandrige is a vampire responsible for a string of recent deaths. When no one he knows believes him, he enlists Peter Vincent, a self proclaimed vampire killer and Las Vegas magician, to help him take down Jerry.
Status:
titlexxx - Fright Night Movie Trailer
About the Movie
Fright Night is a 3D horror comedy film directed by Craig Gillespie. It is a remake of the 1985 Tom Holland film of the same name. The film had its premiere at the O2 in London on Sunday 14 August and was widely released on August 19, 2011 in Real D 3D.
---
Movie Reviews
Movie Review from EmpireOnline.com

The advent of a new neighbour is always a worry, especially if he turns out to be a vampire who has turned a blood-shot and hungry eye in your direction. That's the scenario faced by Charley (Anton Yelchin) in this remake of the 1985 horror-comedy. In a film of several distinct phases, Charley goes from disbelief in vampirism to Cassandra-like prophet to Van Helsing wannabe, as Colin Farrell's Jerry first toys with and then targets him.

Read the Full Movie Review at EmpireOnline.com
Movie Review from TotalFilm.com

No one needs another remake. No one needs another vampire film. No one needs to see David Tennant scratching his bollocks dressed in spray-on leather trousers, but that doesn't make it bad. Like Doctor Who's pants, Craig Gillespie's update of Tom Holland's 1985 horror comedy is tight, slick, a bit unnecessary, but amusing nonetheless. Anton 'Chekov' Yelchin stars as ex-geek every-teen Charley Brewster, who happens to live next door to a vampire (Colin Farrell).

Read the Full Movie Review at TotalFilm.com
Movie Review from Hollywood.com

Is there such a thing as a successful remake anymore? After seeing Fright Night, the answer is (surprisingly) a resounding "Yes." Craig Gillespie's shiny reimagining of the 1985 kitsch classic is very much its own movie, but like any good spawn, it doesn't forget where it came from. The film's plot is not born of a novel concept. Las Vegas teenager, Charlie (Anton Yelchin), is doing just fine. He managed to shake his nerd image, he's got a hot girlfriend (Imogen Poots), and he even puts the de facto cool kids to shame on occasion.

Read the Full Movie Review at Hollywood.com
Movie Review from Guardian.co.uk

So much for tortured souls with brooding come-hither-and-die eyes. Colin Farrell, as the vampire-next-door in this entertaining if unscary remake of the 1985 film, is a Budweiser-drinking knucklehead. He doesn't play Debussy on the piano; in fact, all he seems to have learned from 400 years walking the earth undead is that he looks good in a tight black T-shirt. It's a neat riposte to Twilight by Buffy scriptwriter Marti Noxon, who relocates the story to Las Vegas.

Read the Full Movie Review at Guardian.co.uk
Movie Review from TimeOut.com

Although written by 'Buffy the Vampire Slayer' scribe Marti Noxon, this lifeless 3D remake of Tom Holland's 1985 horror-comedy never matches the original's creaky, camp charm. This time it's suburban teenager Charlie Brewster (Anton Yelchin) who's sceptical when his nerdy high school pal 'Evil' Ed (Christopher Mintz-Plasse) insists that Charlie's handsome new neighbour, Jerry Dandridge (Colin Farrell) is a vampire.

Read the Full Movie Review at TimeOut.com
Movie Review from Movies.com

I'll be a happier horror fan when vampires stop "trending." Along with 3D and the never-ending stampede of animated talking animal movies, the unintended consequence of the vampire glut is a numbing familiarity, making them all about as scary as a counting-obsessed Muppet. If one of the recent batch of New Romantic vampires came to your door, you'd not only let it in, you'd expect it to be full of witty, self-aware banter.

Read the Full Movie Review at Movies.com
Movie Review from Telegraph.co.uk

Remakes are everywhere these days. Usually they're execrable. So Fright Night, a remake of only a middlingly good horror movie from the Eighties, really ought to be the devil's work. Surprise! Scripted by Buffy the Vampire Slayer writer Marti Nixon and directed by Craig Gillespie, whose penchant for the off-kilter was showcased by Lars and the Real Girl (2007), in which he had Ryan Gosling play a young man who falls in love with a sex doll.

Read the Full Movie Review at Telegraph.co.uk
---
'Fright Night' Stars
Anton Yelchin, Christopher Mintz-Plasse, Colin Farrell, Craig Gillespie, David Tennant, Imogen Poots, Toni Collette
---
'Fright Night' Movie Links

Official Fright Night Movie Website


Fright Night on IMDb


Fright Night on Wikipedia