---
Great Expectations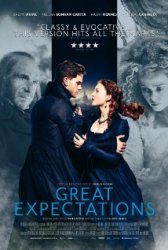 Starring: Ralph Fiennes, Helena Bonham Carter, Robbie Coltrane, Jason Flemyng, Jeremy Irvine
Director: Mike Newell
Release Date:

30th November, 2012
Running Time: 128 Mins
Synopsis: A humble orphan suddenly becomes a gentleman with the help of an unknown benefactor.
Status:
titlexxx - Great Expectations Movie Trailer
About the Movie
Great Expectations is an upcoming British film adaptation of Charles Dickens' novel of the same name. The film was directed by Mike Newell, with the adapted screenplay by David Nicholls, and stars Jeremy Irvine, Helena Bonham Carter, Ralph Fiennes and Robbie Coltrane. It was distributed by Lions Gate Entertainment.
Newell adapted the screenplay after being asked to work on it by producers Elizabeth Karlsen and Stephen Woolley, with whom he had worked on And When Did You Last See Your Father?. Helena Bonham Carter was asked to appear as Miss Havisham by Newell, and accepted the role after some initial apprehension, while Irvine was initially intimidated by the thought of appearing on screen as Pip.
The premiere of the film closed the BFI London Film Festival in 2012, although it had already been previewed earlier in the year at the Toronto Film Festival. It is scheduled for release in the UK on 30 November 2012.
---
'Great Expectations' Stars
Helena Bonham Carter, Jason Flemyng, Jeremy Irvine, Mike Newell, Ralph Fiennes, Robbie Coltrane
---
'Great Expectations' Movie Links

Great Expectations on IMDb


Great Expectations on Wikipedia