---
Harry Potter and the Deathly Hallows: Part II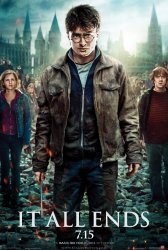 Starring: Daniel Radcliffe, Rupert Grint, Emma Watson, Helena Bonham Carter, Robbie Coltrane, Warwick Davis, Michael Gambon, Richard Griffiths, Alan Rickman, Maggie Smith, David Thewlis, Julie Walters, Brendan Gleeson, Timothy Spall
Director: David Yates
Release Date:

July 15th, 2011
Release Date:

15th July, 2011
Synopsis: Harry, Ron, and Hermione are fugitives from the law when the Death Eaters have taken over the Ministry of Magic and there is a 10,000 galleon price for anyone who turns in Harry to the Death Eaters so Voldemort can kill him. The Dark Lord told all Death Eaters not to kill Harry because he wants Harry for himself.
Status:
titlexxx - Harry Potter and the Deathly Hallows: Part II Movie Trailer
Harry Potter and the Deathly Hallows: Part II Teaser Trailer
About the Movie
Harry Potter and the Deathly Hallows – Part 2 is an upcoming 2011 epic fantasy film directed by David Yates and the second of two films based on the novel of the same name by J. K. Rowling. It is the eighth and final instalment in the Harry Potter film series, written by Steve Kloves and produced by David Heyman, David Barron and Rowling. The story continues to follow Harry Potter on a quest to find and destroy Lord Voldemort's remaining Horcruxes. The film stars Daniel Radcliffe as Harry Potter, alongside Rupert Grint and Emma Watson as Harry's best friends Ron Weasley and Hermione Granger. The supporting cast features Ralph Fiennes, Michael Gambon, Alan Rickman, Helena Bonham Carter and Maggie Smith.
Principal photography began on 19 February 2009 and was completed on 12 June 2010, with the final day of reshoots taking place on 21 December 2010 marking the series' closure of ten years of filming. Part 2 will be released in 3D, along with 2D formats, in IMAX on 15 July 2011.
---
'Harry Potter and the Deathly Hallows: Part II' Stars
Alan Rickman, Brendan Gleeson, Daniel Radcliffe, David Thewlis, David Yates, Emma Watson, Helena Bonham Carter, Julie Walters, Maggie Smith, Michael Gambon, Richard Griffiths, Robbie Coltrane, Rupert Grint, Timothy Spall, Warwick Davis
---
'Harry Potter and the Deathly Hallows: Part II' Movie Links

Harry Potter and the Deathly Hallows: Part II on IMDb


Harry Potter and the Deathly Hallows: Part II on Wikipedia