---
Harry Potter and the Prisoner of Azkaban (2004)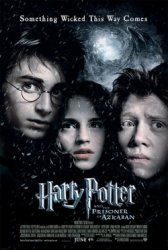 Starring: Daniel Radcliffe, Rupert Grint, Emma Watson, Robbie Coltrane, Michael Gambon, Richard Griffiths, Gary Oldman, Alan Rickman, Fiona Shaw, Maggie Smith, Timothy Spall, David Thewlis, Emma Thompson, Julie Walters
Director: Alfonso Cuarón
Release Date:

June 4th, 2004
Release Date:

31st May, 2004
Synopsis: In the summer before his third year at Hogwarts, Harry Potter becomes fed up with his horrible aunt and uncle, and after accidentally inflating his visiting aunt Marge, he runs away. Unfortunately, there's much more danger in the wizarding world than harry thought. Convicted mass murderer, Sirius Black, has escaped from the wizarding prison Azkaban. Black is known as Lord Voldemort's most devoted follower, and he's after Harry to avenge Voldemort and finish the job. But not everything is what it seems, and inside of Hogwarts there may just be a traitor.
Status:
Harry Potter and the Prisoner of Azkaban Movie Trailer
Harry Potter and the Prisoner of Azkaban Teaser Trailer
About the Movie
Harry Potter and the Prisoner of Azkaban is a 2004 fantasy-adventure film, based on the novel of the same name by J. K. Rowling. Directed by Mexican film maker Alfonso Cuarón, it is the third film in the popular Harry Potter series. It stars Daniel Radcliffe as the teenage wizard Harry Potter, and Rupert Grint and Emma Watson as Harry's best friends Ron Weasley and Hermione Granger. Gary Oldman and David Thewlis joined the cast as the new characters Sirius Black and Remus Lupin. In this movie, the role of Albus Dumbledore was played by Michael Gambon who took over from the late Richard Harris who died of Hodgkin's disease. Steve Kloves returned as screenwriter, while Chris Columbus (the director of the previous two films) became a producer, alongside David Heyman. The film was released on 31 May 2004 in the United Kingdom and on 4 June 2004 in North America, as the first film released into IMAX theaters and to be using IMAX Technology. It was also the last Harry Potter film to be released on VHS.
The film was nominated for two Academy Awards — Academy Award for Original Music Score and Academy Award for Visual Effects at the 77th Academy Awards held in 2005.
---
'Harry Potter and the Prisoner of Azkaban' Stars
Alan Rickman, Daniel Radcliffe, David Thewlis, Emma Thompson, Emma Watson, Fiona Shaw, Gary Oldman, Julie Walters, Maggie Smith, Michael Gambon, Richard Griffiths, Robbie Coltrane, Rupert Grint, Timothy Spall
---
'Harry Potter and the Prisoner of Azkaban' Movie Links

Harry Potter and the Prisoner of Azkaban on IMDb