---
Harry Potter and the Chamber of Secrets (2002)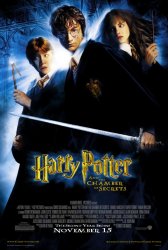 Starring: Daniel Radcliffe, Rupert Grint, Emma Watson, Kenneth Branagh, John Cleese, Robbie Coltrane, Warwick Davis, Richard Griffiths, Richard Harris, Jason Isaacs, Alan Rickman, Fiona Shaw, Maggie Smith, Julie Walters
Director: Chris Columbus
Release Date:

November 15th, 2002
Release Date:

15th November, 2002
Synopsis: Forced to spend his summer holidays with his muggle relations, Harry Potter gets a real shock when he gets a surprise visitor. Dobby the house-elf, who warns Harry Potter against returning to Hogwarts, for terrible things are going to happen. Harry decides to ignore Dobby's warning and continues with his pre-arranged schedule. But at Hogwarts, strange and terrible things are indeed happening. Harry is suddenly hearing mysterious voices from inside the walls, muggle-born students are being attacked, and a message scrawled on the wall in blood puts everyone on their guard – "The Chamber Of Secrets Has Been Opened. Enemies Of The Heir, Beware".
Status:
Harry Potter and the Chamber of Secrets Movie Trailer
About the Movie
Harry Potter and the Chamber of Secrets is a 2002 fantasy-adventure film, and the second film in the popular Harry Potter series, based on the novel by J. K. Rowling, Harry Potter and the Chamber of Secrets. The film was released on 15 November 2002 in the UK and North America and 28 November in Australia. Returning to work on the film were director Chris Columbus, screenwriter Steven Kloves, and producer David Heyman.
Most of the major cast and crew from Philosopher's Stone (known as Sorcerer's Stone in the United States) returned for Chamber of Secrets, including child stars Daniel Radcliffe, Emma Watson, and Rupert Grint. However, it was the last appearance by Richard Harris as Dumbledore and the last Harry Potter film directed by Columbus. New key actors included Kenneth Branagh as Gilderoy Lockhart and Jason Isaacs as Lucius Malfoy.
The film was very well received at the box office, making $879 million USD worldwide. It was nominated for three BAFTA Film Awards in 2003.
---
'Harry Potter and the Chamber of Secrets' Stars
Alan Rickman, Chris Columbus, Daniel Radcliffe, Emma Watson, Fiona Shaw, Jason Isaacs, John Cleese, Julie Walters, Kenneth Branagh, Maggie Smith, Richard Griffiths, Richard Harris, Robbie Coltrane, Rupert Grint, Warwick Davis
---
'Harry Potter and the Chamber of Secrets' Movie Links

Harry Potter and the Chamber of Secrets on IMDb