---
Harry Potter and the Deathly Hallows: Part I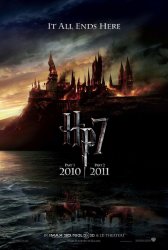 Starring: Daniel Radcliffe, Rupert Grint, Emma Watson, Helena Bonham Carter, Robbie Coltrane, Warwick Davis, Michael Gambon, Richard Griffiths, Alan Rickman, Maggie Smith, David Thewlis, Julie Walters, Brendan Gleeson, Timothy Spall
Director: David Yates
Release Date:

November 19th, 2010
Release Date:

19th November, 2010
Synopsis: Harry, Ron, and Hermione are fugitives from the law when the Death Eaters have taken over the Ministry of Magic and there is a 10,000 galleon price for anyone who turns in Harry to the Death Eaters so Voldemort can kill him. The Dark Lord told all Death Eaters not to kill Harry because he wants Harry for himself.
Status:
Harry Potter and the Deathly Hallows: Part I Movie Trailer
About the Movie
Harry Potter and the Deathly Hallows is an upcoming two-part fantasy-adventure film directed by David Yates and based on the novel of the same name by J. K. Rowling. The film will be the seventh and final instalment in the Harry Potter film series, and the third to be directed by Yates. David Heyman and David Barron serve as producers and the screenplay is written by Steve Kloves. The film stars Daniel Radcliffe as Harry Potter, alongside Rupert Grint and Emma Watson as Harry's best friends, Ron Weasley and Hermione Granger. The story follows the trio on a quest to find and destroy Lord Voldemort's secret to immortality – the Horcruxes. Principal photography for both parts was completed on 12 June 2010.
Part I will be released on 19 November 2010 and Part II on 15 July 2011. Both parts will be released by Warner Bros. Pictures in 2D and 3D formats on their individual release dates. Harry Potter and the Deathly Hallows will be the only entry from the series to be converted entirely in 3D. It will also be released in IMAX 3D.
---
Movie Reviews
Movie Review from EmpireOnline.com

Rain lashes down. Bill Nighy intones, "These are dark times, there is no denying." Good people look anxious and pale. Bad people look smug and even paler. Yes, the penultimate Potter quickly leaves us in no doubt that this is The Darkest One Yet, the film in which the phalanxes of evil rally and all looks lost. Even Hogwarts has been overrun, meaning Harry, Hermione and Ron must take to the road as fugitives. For the first time, the cosy trimmings of a Harry Potter film — train to school, lessons, quidditch match, Christmas — have all been Avada-Kedavra'ed into oblivion.

Read the Full Movie Review at EmpireOnline.com
Movie Review from TotalFilm.com

An eleven-year old Harry prevailed over a trying situation where the ethereal form of Lord Voldemort came out of the back of Ian Hart's head. He stabbed a giant snake with a special sword and killed a diary with one of the snake's fangs. David Thewlis turned into a werewolf. Gary Oldman turned into a dog. Hermione turned back time just so some stupid horse thing with wings didn't get its head chopped off by the man from Middlemarch. Robert Pattinson got killed by Timothy Spall. Harry tried to find a mysterious prophecy that could have made the series a bit shorter. But the prophecy was destroyed by his clumsy friend. Gary Oldman got killed by Helena Bonham Carter.

Read the Full Movie Review at TotalFilm.com
Movie Review from Hollywood.com

Perhaps Harry Potter and the Deathly Hallows should have been a trilogy. Splitting the sprawling finale to author J.K. Rowling's boy wizard saga into three parts — as opposed to its chosen two-part incarnation — might have come across as shameless profiteering (admittedly, a not-uncommon practice in this town), but it wouldn't have been without merit. At 759 pages, Rowling's source novel is said to be a rather dense work, plot-wise; surely it could have easily warranted another installment?

Read the Full Movie Review at Hollywood.com
Movie Review from Guardian.co.uk

At the end of the last Harry Potter film, this series began to succumb to a bad case of what the industry calls the "Matrix Revolutions". This is suffered by films that owe their existence purely to a marketing franchise momentum that has long since outlived the original creative excitement. The chief symptom is a mythically elaborate, spectacular, apocalyptic and fantastically dull confrontation between good and evil, about whose representatives there is nothing substantial left to learn. The Harry Potter brand was evidently set to run a grim headless-chicken marathon right through its two remaining films to the bitter end.

Read the Full Movie Review at Guardian.co.uk
Movie Review from TimeOut.com

Anyone who complained that the previous episode in the 'Harry Potter' saga felt too much like scene-setting for the final showdown will be equally disappointed with 'Deathly Hallows Part 1'. A film with no beginning and no end but a whole lot of expository middle, this is the least satisfying instalment in the series since Chris Columbus folded up his director's chair. Bill Nighy's dour, dandified Minister of Magic sets the tone with a barbed speech bemoaning the state of the magical nation: murders, disappearances and raids are becoming commonplace and no one, it seems, is safe.

Read the Full Movie Review at TimeOut.com
Movie Review from Movies.com

I could just type a series of 1s and 0s for this review and it wouldn't make one bit of difference. After six movies you already know which camp you're in. You've seen none of them or you've seen all of them at least three or more times, and no 500 words of opinionating from me is going to sway you. So all there is to say is that HP7.1 is everything the fans want it to be. It's handsomely produced, beautifully art directed, serious-face-acted by everyone on screen and still the doomiest coming-of-age series of films since the ones Truffaut made about Antoine Doinel. Google it, kids.

Read the Full Movie Review at Movies.com
---
'Harry Potter and the Deathly Hallows: Part I' Stars
Alan Rickman, Brendan Gleeson, Daniel Radcliffe, David Thewlis, David Yates, Emma Watson, Helena Bonham Carter, Julie Walters, Maggie Smith, Michael Gambon, Richard Griffiths, Robbie Coltrane, Rupert Grint, Timothy Spall, Warwick Davis
---
'Harry Potter and the Deathly Hallows: Part I' Movie Links

Harry Potter and the Deathly Hallows: Part I on IMDb