---
Halloween II (2009)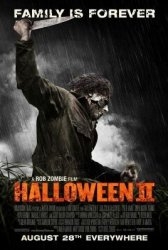 Starring: Malcolm McDowell, Tyler Mane, Sheri Moon Zombie, Brad Dourif, Angela Trimbur, Caroline Williams, Danielle Harris, Matt Bush
Director: Rob Zombie
Release Date:

August 28th, 2009
Release Date:

9th October, 2009
Synopsis: Michael Myers is still at large and no less dangerous than ever. After a failed reunion to reach his baby sister at their old home, Laurie Strode is immediately taken to a hospital to be treated by the wounds that had been afflicted by her brother a few hours ago. However, Michael isn't too far off and will continue his murdering 'Halloween' rampage until he gets his sister all to himself. As Michael travels to Haddonfield, Laurie begins having hallucinations that mirror Michael's, which involve a ghostly image of Deborah and a young Michael in a clown costume. In addition, her hallucinations also begin to include her acting out Michael's murders. Loomis has been going on tour to promote his new book, only to be greeted with outrage from the public who blame him for Michael's actions and exploiting the deaths of Michael's victims.
Status:
Halloween II Movie Trailer
About the Movie
Halloween II is a 2009 American horror film written, directed, and produced by Rob Zombie. The film is a sequel to Zombie's 2007 remake of Halloween (1978), and the tenth film in the Halloween film series. Picking up where Halloween ended, and then jumping ahead one year, Halloween II follows Laurie Strode as she deals with the aftermath of the previous year's events, Dr. Loomis who is trying to capitalize on those events by publishing a new book that chronicles everything that happened, and Michael Myers as he continues his search for Laurie so that he can reunite with his sister. The film sees the return of lead cast members Malcolm McDowell, Scout Taylor-Compton, and Tyler Mane, who portrayed Dr. Loomis, Laurie Strode, and Michael Myers in the 2007 film, respectively.
A sequel to the 2007 film was first announced at the 2008 30 Years of Terror Convention; at the time, Zombie passed on doing a sequel to his remake, feeling as though he had no energy left to make another Halloween film. Two years later, after unsuccessful attempts to draft a script for a sequel, the Weinstein brothers, Malek Akkad, and Rob Zombie, who had a renewed interest in the film, secured a deal for the director to return. For Halloween II, Zombie decided he wanted to focus more on the connection between Laurie and Michael, and the idea that they both share similar psychological problems. Zombie also wanted the sequel to be more realistic and violent than its 2007 predecessor. This time around, Zombie had trouble finding a place to include John Carpenter's original Halloween theme music; although the score was used throughout Zombie's 2007 film, the theme was only included with the final shot of the sequel.
Halloween II was officially released on August 28, 2009 in North America, and was met with a negative reception from film critics.
---
'Halloween II' Stars
Angela Trimbur, Brad Dourif, Caroline Williams, Danielle Harris, Malcolm McDowell, Matt Bush, Rob Zombie, Sheri Moon Zombie, Tyler Mane
---
'Halloween II' Movie Links

Official Halloween II Movie Website


Halloween II on IMDb