---
Silent Hill: Revelation 3D (2012)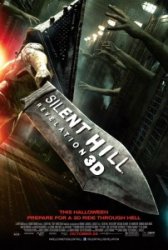 Starring: Adelaide Clemens, Kit Harington, Deborah Kara Unger, Martin Donovan, Malcolm McDowell
Director: Michael J. Bassett
Release Date:

October 26th, 2012
Release Date:

31st October, 2012
Running Time: 94 Mins
Synopsis: When her father disappears, Heather Mason is drawn into a strange and terrifying alternate reality that holds answers to the horrific nightmares that have plagued her since childhood.
Status:
Silent Hill: Revelation 3D Movie Trailer
About the Movie
Silent Hill: Revelation 3D is a 2012 3D horror film directed and written by Michael J. Bassett and a sequel to the 2006 film Silent Hill. Revelation stars Adelaide Clemens, Kit Harington, Deborah Kara Unger, Martin Donovan, Malcolm McDowell, Carrie-Anne Moss, and Sean Bean, and is based on the survival horror video game Silent Hill 3 by Konami. Revelation's plot follows teenager Heather Mason (Clemens) who discovers on the eve of her eighteenth birthday that her presumed identity is false and as a result is drawn to an alternate dimension existing in the fictitious American town of Silent Hill.
Prior to the beginning of Revelation's filming, Bassett expressed his openness to fans' suggestions of actresses for Heather's role. On an estimated $20 million budget, filming lasted from March to May 2011 in Canada, with the 3D RED Epic camera used for the process; audio mixing took place in France. Revelation has grossed $50,622,655 as of January 10, 2013, and has received mainly negative reviews by film critics.
---
'Silent Hill: Revelation 3D' Stars
Adelaide Clemens, Deborah Kara Unger, Kit Harington, Malcolm McDowell, Martin Donovan, Michael J. Bassett
---
'Silent Hill: Revelation 3D' Movie Links

Silent Hill: Revelation 3D on IMDb


Silent Hill: Revelation 3D on Wikipedia