---
Hotel for Dogs (2009)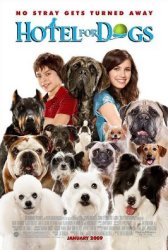 Starring: Don Cheadle, Emma Roberts, Lisa Kudrow, Kevin Dillon, Jake T. Austin, Kyla Pratt, Johnny Simmons
Director: Thor Freudenthal
Release Date:

January 16th, 2009
Release Date:

13th February, 2009
Synopsis: When their new guardians forbid 16-year old Andi and her younger brother, Bruce to have a pet, Andi has to use her quick wit to help find a new home for their dog, Friday. The resourceful kids stumble upon an abandoned hotel and using Bruce's talents as a mechanical genius, transform it into a magical dog-paradise for Friday, and eventually for all Friday's friends. When barking dogs make the neighbors suspicious, Andi and Bruce use every invention they have to avoid anyone discovering "who let the dogs in."
Status:
Hotel for Dogs Movie Trailer
About the Movie
Hotel for Dogs is a 2009 American children's comedy film based on the 1971 Lois Duncan novel of the same name. The film, directed by Thor Freudenthal and adapted by Jeff Lowell, Bob Schooley, and Mark McCorkle, stars Johnny Simmons, Emma Roberts, Jake T. Austin, Lisa Kudrow, Kevin Dillon, Kyla Pratt, and Don Cheadle. It tells the story of two orphans, Andi and Bruce (played by Roberts and Austin), who attempt to hide their dog at an abandoned hotel after their strict new guardians tell them that pets are forbidden at their home. The film is Nickelodeon's second film to be produced by DreamWorks Pictures after Lemony Snicket's A Series of Unfortunate Events. Shooting began in November 2007 and filming took place entirely in the cities of Los Angeles and Universal City, California. The dogs in the film were trained for several months before shooting. Nearly 80 boys auditioned for the role of Bruce before Austin was ultimately selected.
The film was released in the United States on January 16, 2009, and grossed approximately $17 million in its opening weekend in 3,271 theaters. It eventually went on to gross $117 million worldwide. Reception to the film was mixed. Reviewers both criticized and praised the film's strong appeal to children and, in the opinion of some, its lack of appeal to older audiences. According to the film review aggregate website Rotten Tomatoes, 47% of critics gave Hotel a positive review.
---
'Hotel for Dogs' Stars
Don Cheadle, Emma Roberts, Jake T. Austin, Johnny Simmons, Kevin Dillon, Kyla Pratt, Lisa Kudrow, Thor Freudenthal
---
'Hotel for Dogs' Movie Links

Official Hotel for Dogs Movie Website


Hotel for Dogs on IMDb