---
Scream 4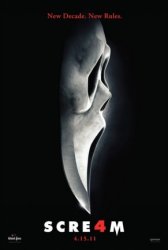 Starring: David Arquette, Neve Campbell, Courteney Cox, Emma Roberts, Hayden Panettiere, Kristen Bell
Director: Wes Craven
Release Date:

April 15th, 2011
Release Date:

15th April, 2011
Synopsis: Sidney Prescott, now the author of a self-help book, returns home to Woodsboro on the last stop of her book tour. There she reconnects with Sheriff Dewey and Gale, who are now married, as well as her cousin Jill and her Aunt Kate. Unfortunately, Sidney's appearance also brings about the return of Ghostface, putting Sidney, Gale, and Dewey, along with Jill, her friends, and the whole town of Woodsboro in danger.
Status:
titlexxx - Scream 4 Movie Trailer
About the Movie
Scream 4 (stylized as SCRE4M) is an upcoming slasher film and fourth installment in the Scream series. It was directed by Wes Craven and written by Kevin Williamson, writer of Scream and Scream 2. It stars an ensemble cast of David Arquette, Neve Campbell, Courteney Cox, Emma Roberts and Hayden Panettiere. Campbell, Arquette and Cox are the only returning cast members from the previous films.
Originally, the series was intended to be a trilogy, but after ten years Bob Weinstein thought it was time for another film. It is intended to be the first of a new trilogy, with both Craven and Williamson signed on for the duration. Filming began in and around Ann Arbor, Michigan on June 28, 2010 and ended September 24, 2010. It is scheduled to be released on April 15, 2011.
---
'Scream 4' Stars
Courteney Cox, David Arquette, Emma Roberts, Hayden Panettiere, Kristen Bell, Neve Campbell, Wes Craven
---
'Scream 4' Movie Links

Scream 4 on IMDb


Scream 4 on Wikipedia