---
My Soul to Take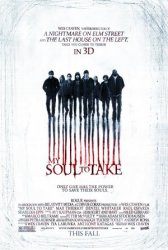 Starring: Max Thieriot, John Magaro, Denzel Whitaker, Zena Grey, Nick Lashaway, Paulina Olszynski
Director: Wes Craven
Release Date:

October 8th, 2010
Release Date:

21st January, 2011
Synopsis: In the sleepy town of Riverton, legend tells of a serial killer who swore he would return to murder the seven children born the night he died. Now, 16 years later, people are disappearing again. Has the psychopath been reincarnated as one of the seven teens, or did he survive the night he was left for dead? Only one of the kids knows the answer. Adam "Bug" Heller was supposed to die on the last night the Riverton Ripper wrecked havoc on that terrifying night. Unaware of terrifying crimes being committed to the seven children, he has been plagued by nightmares of their murders while not aware if they hold true or if he is simply imagining the images that haunt him.
Status:
My Soul to Take Movie Trailer
About the Movie
My Soul to Take in 3D is an American horror film written and directed by Wes Craven. The film is the first film since Wes Craven's New Nightmare (1994) that he both wrote and directed.
---
Movie Reviews
Movie Review from Hollywood.com

Wes Craven is a revered name in the horror industry. One cannot run down a list of the greatest horror films of all time without at least mentioning A Nightmare on Elm Street. But the nasty little secret about Wes Craven is that, apart from that spark of competence, he is one of the most overrated directors of our time. The man has no grasp of performance, storytelling or cinematography and has limped along since A Nightmare on Elm Street traded upon his own name.

Read the Full Movie Review at Hollywood.com
Movie Review from Movies.com

My Soul to Take is the first movie since 1994′s New Nightmare to be both written and directed by Wes Craven, and it borrows liberally from some of the horror maven's best known hits. There's the high school milieu where misfits and jocks and popular mean girls mingle, connected only by their own doomed fates. The tongue-in-cheek self-awareness of characters deconstructing their own motivations and arcs. The supernatural slasher who haunts his prey and seems to never die.

Read the Full Movie Review at Movies.com
---
'My Soul to Take' Stars
Denzel Whitaker, John Magaro, Max Thieriot, Nick Lashaway, Paulina Olszynski, Wes Craven, Zena Grey
---
'My Soul to Take' Movie Links

My Soul to Take on IMDb

Available Now on DVD and Blu-ray
My Soul to Take
Star: Max Thieriot, John Magaro, D | Dir: Wes Craven
Blu-ray | Cert R | 107 Mins
Buy Now
Rating

My Soul to Take
Star: Max Thieriot, John Magaro, D | Dir: Wes Craven
DVD | Cert R | 107 Mins
Buy Now
Rating

Related Movies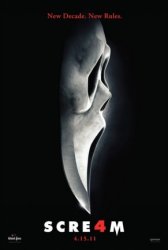 Scream 4 is a slasher film and fourth installment in the Scream series, directed by Wes Craven and stars an... Read More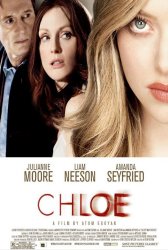 Chloe is a 2009 United States/Canadian/French erotic thriller directed by Atom Egoyan, and starring Julianne Moore, Liam Neeson, Amanda Seyfried,... Read More