---
Jackass 3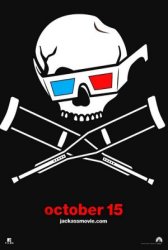 Starring: Johnny Knoxville, Bam Margera, Steve-O, Chris Pontius, Ryan Dunn, Jason Acuña
Director: Jeff Tremaine
Release Date:

October 15th, 2010
Release Date:

5th November, 2010
Synopsis: The Jackass pranksters are at it again in this third outing, presented for the first time in 3D -- an effect that will no doubt redefine the use of the in-your-face technology. Once again Jeff Tremaine returns to direct the MTV Films/Paramount Pictures production.
Status:
About the Movie
Jackass 3D, also known as Jackass Number 3 is an upcoming 3-D film of the Jackass series. In December 2009, Paramount Pictures and MTV Films announced an October 15, 2010 release. The movie will mark the 10th anniversary of the franchise, started in 2000.
---
Movie Reviews
Movie Review from EmpireOnline.com

Knoxville and the gang are back after four years, and while it's like they've never been away, age, and maybe experience, have weathered them. It clearly hasn't matured anyone, though the wallops hit harder and the vomit flows more freely. Best bits? Steve-O taking over the reins of the poo cocktail for a supreme version; the sweat suit that challenges you not to dry-heave in the cinema; some painful-looking (and sounding) sports action, and one very angry ram who is clearly not a fan of brass instruments. And yes, the lads really have embraced 3D in a big way, so of course the bodily fluids fly, along with anything else they can get their hands on.

Read the Full Movie Review at EmpireOnline.com
Movie Review from TotalFilm.com

Historically speaking, 3D has often tended towards the lowbrow, struggling to escape its sideshow appeal as film-makers endlessly chuck stuff at the audience, from harpoons (Friday The 13th Part 3D) to unconvincing sharks (Jaws 3D) to half-digested penises (Piranha 3D). Enter Johnny Knoxville's Jackass crew stage left, for whose scatologically enhanced slapstick stereoscopic cinema could have been devised. With buckets of bodily fluids sloshing merrily across the screen, the medium's unlikely to lower its brow any further. Unless, that is, Avatar 2 takes a real ideological left-turn.

Read the Full Movie Review at TotalFilm.com
Movie Review from Guardian.co.uk

Johnny Knoxville and the Jackass crew – the Peter Pan and Lost Boys of crazy self-destructive stunts – are now easing into middle-age and they are back with another superb absurdist nightmare, this time offered in 3D, in precisely the same spirit of cheerful pointlessness as the rest of the film. Their brilliant and bizarre slapstick may well cause an outbreak of fastidious discontent from those who would prefer tasteful fictions resembling the other screenplay-seminar offerings, or middlebrow documentaries comfortingly restating what their bien-pensant target audiences knew already.

Read the Full Movie Review at Guardian.co.uk
Movie Review from TimeOut.com

Adhering again to the 'no pain, no gain' rule, self-styled masochists Johnny Knoxville, Steve-O and cohorts unleash yet another volley of immature anti-health-and-safety 'what if?' scenarios for the third descendant of their once-popular MTV series. The big question, of course, is whether these ageing, jovial jackasses have passed their sell-by date. Well, on the evidence of this mostly hilarious outing, I'd say there's still some mileage in the old dogs yet. Their brand of juvenile, slapstick humour won't appeal to all, but for fans of YouTube misfortune it's like watching 50 thigh-slapping schadenfreude-inspiring clips in a row.

Read the Full Movie Review at TimeOut.com
Movie Review from Movies.com

There is no greater joy in recent cinema than watching the extreme and extremely disgusting, plot-free slapstick created and executed by this nine-member marauding gang of brilliantly idiotic man-children. It's pointless Dada comedy but it's also about how men work with each other. If the ultimate pleasure of male group bonding is the victorious feeling that comes when the weakest link backs down, gives up, throws up or runs screaming from the room while everyone else is doubled over with laughter, then this is a film series all about that weird kind of punch-you-in-the-gut affection.

Read the Full Movie Review at Movies.com
Movie Review from Telegraph.co.uk

There were eyebrows raised recently when New York's Museum of Modern Art in New York staged the world premiere of Jackass 3D. MoMA? The temple of cutting-edge aesthetic practice? What on earth would possess its curators to dignify the antics of a bunch of poo-obsessed man-boys whose bone-crushing, head-over-heels tumbling stunts were originally screened on MTV between 2000 and 2002? In fact, it was an inspired idea. Art institutions have long exulted in the blurring of high and low culture. They have been staging performance art of a violent and shocking nature for decades.

Read the Full Movie Review at Telegraph.co.uk
---
'Jackass 3' Stars
Bam Margera, Chris Pontius, Jason Acuña, Jeff Tremaine, Johnny Knoxville, Ryan Dunn, Steve-O
---
'Jackass 3' Movie Links

Official Jackass 3 Movie Website


Jackass 3 on IMDb