---
Somewhere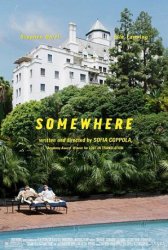 Starring: Michelle Monaghan, Elle Fanning, Stephen Dorff, Laura Ramsey, Eliza Coupe, Chris Pontius
Director: Sofia Coppola
Release Date:

December 22nd, 2010
Release Date:

10th December, 2010
Synopsis: Hollywood actor Johnny Marco, nested in his luxury hotel of choice, is a stimulated man. Drinking, parties and women keep a creeping boredom under wraps in between jobs. He is the occasional father of a bright girl, Cleo, who may be spoiled but doesn't act it. When Cleo's mother drops her off and leaves town, Johnny brings her along for the ride, but can he fit an 11-year-old girl into his privileged lifestyle?
Status:
About the Movie
Somewhere is a 2010 drama film written and directed by Sofia Coppola and starring Stephen Dorff and Elle Fanning. The film is scheduled to be released on December 22, 2010. Somewhere won the Golden Lion at the 67th Venice International Film Festival on September 11, 2010.
---
Movie Reviews
Movie Review from EmpireOnline.com

Sofia Coppola cleaves close to the obsessions that have informed her three previous flicks: daddy-daughter relationships, blank-faced actors, young girls trying to find their place in the world, oblique framing of clinical hotel rooms, too-cool-for-school music, all wrapped up in a low-level melancholy. For those irked by Coppola's fascination with the woes of the over-privileged, steer clear. For the rest of us, this is a gentle, exquisitely made, quietly moving delight.

Read the Full Movie Review at EmpireOnline.com
Movie Review from TotalFilm.com

It's clear from the opening of Sofia Coppola's ode to fame, parenting and Hollywood (both figuratively and geographically) what you're going to get. A static camera watches impassively as a sports car roars around a race track. Once, twice, three times. Minutes pass, the engine thundering monotonously as the car passes in and out of shot. It's a distillation of this snapshot film – self indulgent, repetitive, ambivalent. Loaded with long pauses and unblinking shots. Perhaps even pretentious. But it's also evocative, hypnotic, wry, moving and, like Lost In Translation, open to interpretation.

Read the Full Movie Review at TotalFilm.com
Movie Review from Guardian.co.uk

Here is a film about LA fame that comes with its enthusiasm comprehensively pre-curbed. Sofia Coppola's Somewhere was a movie I first saw earlier this year at the Venice film festival, and although a second viewing certainly discloses more details of listless dullness in the lives of the rich and famous – a vision created very materially by the reportage-style camerawork of Harris Savides – the question of why we should really care or be interested remains tantalisingly unanswered. With its hotel setting, luxury accessories, celeb ennui and father-daughter relationship, it appears to resemble Coppola's far superior movie Lost in Translation, yet this comparison is itself another of the puzzling and exasperating things about it.

Read the Full Movie Review at Guardian.co.uk
Movie Review from TimeOut.com

Playing it more low key and less brash than in 'Marie Antoinette', Sofia Coppola is back in another rarefied world for her fourth feature and her first on home turf since 'The Virgin Suicides'. This time she swaps Versailles for Sunset Boulevard and the French queen for Johnny Marco (Stephen Dorff), a movie star living in limbo in a Hollywood hotel. Not any lodging house either, but the Chateau Marmont, a haven for upscale decadence where one is likely, as Johnny does, to bump into the likes of Benicio del Toro in the lift (a nod to Scarlett Johansson's joke that she had a steamy encounter with him in one of the hotel's elevators).

Read the Full Movie Review at TimeOut.com
Movie Review from Telegraph.co.uk

The last time we caught Sofia Coppola, she was considering the boredom of being queen in Marie Antoinette (2006), which was a red rag of woven silk to her detractors. Insular, they cry. Nothing to say.Little in Somewhere, her latest portrait of cloistered celebrity, will silence this brigade – it's about a bedraggled Hollywood action hunk called Johnny Marco, played with sheepish charm by Stephen Dorff, and the many ways in which he fritters away his time.

Read the Full Movie Review at Telegraph.co.uk
---
'Somewhere' Stars
Chris Pontius, Eliza Coupe, Elle Fanning, Laura Ramsey, Michelle Monaghan, Sofia Coppola, Stephen Dorff
---
'Somewhere' Movie Links

Official Somewhere Movie Website


Somewhere on IMDb