---
Keith Lemon: The Film (2012)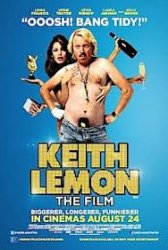 Starring: Leigh Francis, Laura Aikman, Verne Troyer, Kelly Brook
Director: Paul Angunawela
Release Date:

24th August, 2012
Running Time: 85 Mins
Synopsis: Keith Lemon leave his native Leeds for London to become a billionaire. Ditching his long-term girlfriend Rosie (Laura Aikman) and best friend Dougie (Kevin Bishop), he adopts a self-centred life of glamour with his new lover, a very game Kelly Brook, who spends most of the film in her underwear
Status:
About the Movie
Keith Lemon: The Film is a British comedy film written and directed by Paul Angunawela, and co-written by and starring Leigh Francis as television personality Keith Lemon. The film also stars Verne Troyer as his guardian angel, Archimedes, Kevin Bishop as his best friend, Dougie, Laura Aikman as Keith's girlfriend Rosie and Kelly Brook as Herself. The film also features a selection of celebrity camoes, including appearances by David Hasselhoff, Ronan Keating, Gary Barlow, Peter Andre, Fearne Cotton, Emma Bunton and Jedward, amongst others. The film's plot surrounds Keith Lemon's rags to riches story, after acheiving success on the basis of a mobile phone with a lemon sweet stuck on the back.
---
'Keith Lemon: The Film' Stars
Kelly Brook, Laura Aikman, Leigh Francis, Paul Angunawela, Verne Troyer
---
'Keith Lemon: The Film' Movie Links

Keith Lemon: The Film on IMDb


Keith Lemon: The Film on Wikipedia