---
Knight and Day (2010)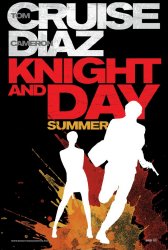 Starring: Tom Cruise, Cameron Diaz, Peter Sarsgaard, Maggie Grace, Paul Dano, Marc Blucas, Viola Davis
Director: James Mangold
Release Date:

June 23rd, 2010
Release Date:

6th August, 2010
Synopsis: An action-comedy centered on a fugitive couple on a glamorous and sometimes deadly adventure where nothing and no one – even themselves – are what they seem. Amid shifting alliances and unexpected betrayals, they race across the globe, with their survival ultimately hinging on the battle of truth vs. trust.
Status:
Knight and Day Movie Trailer
About the Movie
Knight and Day, (formerly titled Wichita and Trouble Man) is a 2010 action comedy film starring Tom Cruise and Cameron Diaz. The film, directed by James Mangold, is Cruise and Diaz's second on-screen collaboration following the 2001 film Vanilla Sky.
The film went through a period of "development hell"; which included a prior film director and multiple writers that worked on the script. Producers for Knight and Day went through multiple other actors for the lead roles before eventually settling on Cruise and Diaz. Adam Sandler, Chris Tucker, and Gerard Butler were considered by the film's producers for the male lead that later went to Cruise, and Eva Mendes was initially set for the role that Diaz later portrayed in the movie. The film's investors offset funding costs by paying Cruise a lower advance fee and neglecting to provide him with a share of the revenue until the financiers earn back their initial investment in the production. Filming took place in several locations, mainly in several cities located in Massachusetts, while other scenes were filmed in Spain and parts of Austria.
Knight and Day was released in the United States on June 23, 2010. The film received mixed reviews from film critics; it garnered a "rotten" rating on Rotten Tomatoes based upon aggregated reviews, and a rating of "mixed or average reviews" at Metacritic. Knight and Day performed poorly at the box office in its debut, proceeded to fall nine percent in ticket sales in its second day after being released, and took third place behind films Toy Story 3 and the comedy Grown Ups in its first Friday after release. At $20.5 million, the total U.S. weekend box office take for Knight and Day was the worst result for an action film starring Tom Cruise in 20 years.
---
Movie Reviews
Movie Review from EmpireOnline.com

As balding, gut-bucketed potty-mouth Les Grossman, Tom Cruise's feckless alter-ego in Tropic Thunder, made clear — Ethan Hunt isn't taking himself too seriously these days. He's all about parody, refusing straight-up spy-clobber such as Salt and The Tourist for this full-throttled caper, almost but not quite a deliberate send-up of Cruise's IMF-persona.

Read the Full Movie Review at EmpireOnline.com
Movie Review from TotalFilm.com

Plane, train, speedboat, motorbike. Boston, Seville, the Alps, the Caribbean… One thing you can't accuse Knight And Day of is standing still too long.
On paper, it's an attempt to update the effortless fizz and whiz of old-school runarounds like North By Northwest, The 39 Steps and Charade. On screen, it fires up more of a True Lies vibe, complete with casual brutality and weary woman-losing- controlof- a-machine-gun joke.

Read the Full Movie Review at TotalFilm.com
Movie Review from Hollywood.com

Knight and Day is the pinnacle of studio laziness: two pretty people forcefully crammed into an empty vessel in the hopes that their celebrity will dupe more than a few rubes into buying a ticket. This movie is lifeless; it has no pulse from beginning to end. I'm not naive. I know why movies like this exist and I know that I am not the target audience. But what really burns me about Knight and Day is that it fails to deliver on the one note on which movies like this typically bank: cheap romance.

Read the Full Movie Review at Hollywood.com
Movie Review from Guardian.co.uk

All his own stunts, all his own abs and all his own teeth: Tom Cruise revs up the bike for what could be his final and slightly distracted outing as an action lead – before possibly settling into a new career phase pursuing the character/comedy roles in which he has been winning hearts and minds.

Read the Full Movie Review at Guardian.co.uk
Movie Review from TimeOut.com

Early 2009, Hollywood
Studio boss 'Get me a release date!'
Assistant 'For what?'
Studio boss 'A film, dumbass.'
Assistant 'Cool. Who's in it?'
Studio boss 'Tom Cruise and Cameron Diaz! Tom and Cam! Cruise and Diaz! Together again!'
Assistant 'What's it called?'
Studio boss ' "Untitled Cruise/Diaz Comedy Project 2010". '
Assistant 'Catchy. It's a comedy?'
Studio boss 'It's going to be funny.'
Assistant 'What's it about?'
Studio boss 'Cruise is going to be funny. Did you see him in "Tropic Thunder"? So funny.'

Read the Full Movie Review at TimeOut.com
Movie Review from Movies.com

Okay, so Knight and Day sounds a bit creepy on paper. On screen, however, the combination of Cruise and Diaz plays startlingly well; he's a more courteous and gregarious (but no less deadly) version of his Mission: Impossible persona, she plays a variation on that gorgeous space cadet-surfer girl-tomboy shtick she does so well.

Read the Full Movie Review at Movies.com
Movie Review from Telegraph.co.uk

He hasn't reached Mel Gibson's public pariah status yet, but these days it seems as if every film in which Tom Cruise stars is meant to be a comeback. The former golden boy turned Scientologist and leaping-on-chat-show-sofas foolio is no longer a box-office banker.
Early reports about Knight And Day, a film that's been in development hell for ages, suggested another flop after Lions for Lambs and Valkyrie.

Read the Full Movie Review at Telegraph.co.uk
---
'Knight and Day' Stars
Cameron Diaz, James Mangold, Maggie Grace, Marc Blucas, Paul Dano, Peter Sarsgaard, Tom Cruise, Viola Davis
---
'Knight and Day' Movie Links

Knight and Day on IMDb