---
Eat Pray Love (2010)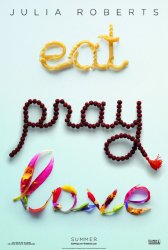 Starring: Julia Roberts, James Franco, Javier Bardem, Billy Crudup, Richard Jenkins, Viola Davis
Director: Ryan Murphy
Release Date:

August 13th, 2010
Release Date:

24th September, 2010
Synopsis: Liz Gilbert had everything a modern woman is supposed to dream of having – a husband, a house, a successful career – yet like so many others, she found herself lost, confused, and searching for what she really wanted in life. Newly divorced and at a crossroads, Gilbert steps out of her comfort zone, risking everything to change her life, embarking on a journey around the world that becomes a quest for self-discovery.
Status:
Eat Pray Love Movie Trailer
About the Movie
Eat, Pray, Love is the title of an upcoming film based on the memoir of the same name by American author Elizabeth Gilbert, co-written and directed by Ryan Murphy. It began filming in August 2009. Filming locations for the film include New York City (United States), Naples (Italy), Pataudi (India), and Bali (Indonesia).
---
Movie Reviews
Movie Review from EmpireOnline.com

Elizabeth Gilbert's memoir of a woman who leaves her unsatisfactory marriage to start a spiritual, literal journey of man-free self-discovery left readers feeling empowered. But condensed into movie form and starring Julia Roberts, the message has been somewhat diluted to bumper-sticker ideology. In Italy she learns the sweetness of doing nothing, in India the humility of scrubbing floors and in Bali the importance of balance. All sound counsel, but by the time she meets Felipe (Javier Bardem), she apparently needs a man to make her happy after all, presumably not the book's intended message.

Read the Full Movie Review at EmpireOnline.com
Movie Review from TotalFilm.com

A career as a successful travel journalist, a swanky New York apartment and a post-marital fling with James Franco: things don't appear to be going too badly for Liz Gilbert (Julia Roberts). Yet still, she can't find her "centre". She used to have "an appetite for life" and she's lost it. Woe. Woe is her. Clearly what this woman needs is a 12-month voyage of self-discovery around the globe. Roberts' character is difficult to feel sorry for before she sets off on this postcardperfect self-healing binge. She becomes near impossible to like as it becomes apparent we're watching a huge holiday video.

Read the Full Movie Review at TotalFilm.com
Movie Review from Hollywood.com

Thank goodness for literal titles. Otherwise, I might be at a loss to ascertain just what exactly Eat Pray Love is about. Had I been without those three guiding verbs, I might have suspected it to be about a forlorn, earth-bound angel, played by Julia Roberts, who travels the world eliciting pearls of wisdom from charming, impoverished locals in an effort to earn back her wings. It's certainly the impression conveyed by the film's director, Ryan Murphy, who takes great care to ensure that his ethereal star is never without her amber halo as she floats about in a soft-focus glow.

Read the Full Movie Review at Hollywood.com
Movie Review from Movies.com

Here are my actual notes during a couple chunks of this movie: Me me me me me me me me me me me me me me me me me me me me me me… (DEEP BREATH) me me me me me me me me me me me me me. And then later: YAP YAP YAP YAP YAP YAP YAP YAP YAP YAP YAP YAP YAP YAP YAP. So you should know that it's 1,000% that kind of movie. And if you're okay with that then go spend the nearly 150 minutes it's going to take to watch it. Director Ryan Murphy couldn't care less about delving into anyone's pain too deeply, so when it wants you to cry you probably won't.

Read the Full Movie Review at Movies.com
Movie Review from Telegraph.co.uk

Elizabeth Gilbert's Eat, Pray, Love is a travelogue to Italy, India, and Indonesia. It's also a trip into selfhood, an attempt to understand who she is and what she wants in the wake of a broken marriage. Published in 2006, it seems to have been in the international bestseller charts since AD1500. Eat Pray Love the movie — note the lack of commas: it's an early sign of how the ironies and subtleties of the author's prose have been shed in the transition to screen — seems to last about 500 years.

Read the Full Movie Review at Telegraph.co.uk
---
'Eat Pray Love' Stars
Billy Crudup, James Franco, Javier Bardem, Julia Roberts, Richard Jenkins, Ryan Murphy, Viola Davis
---
'Eat Pray Love' Movie Links

Official Eat Pray Love Movie Website


Eat Pray Love on IMDb