---
Let Me In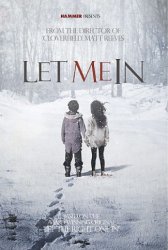 Starring: Chloë Grace Moretz, Kodi Smit-McPhee, Richard Jenkins, Elias Koteas, Sasha Barrese, Cara Buono
Director: Matt Reeves
Release Date:

October 1st, 2010
Release Date:

5th November, 2010
Synopsis: This is a remake of the movie Let The Right One In which was a movie adaptation of a book. A story of a young boy who is frequently bullied and a young girl that moves in next door with her caretaker. It is established that she is a vampire and, after losing her caretaker, must leave in order to survive. A story of innocent love entangled in murder, mystery, and horror.
Status:
About the Movie
Let Me In is a 2010 American-British horror film directed by Matt Reeves based on the novel Let the Right One In by John Ajvide Lindqvist and the Swedish film adaptation of the same name. It tells the story of a 12-year-old boy who develops a friendship with a vampire child in a New Mexico town in the early 1980s.
---
Movie Reviews
Movie Review from EmpireOnline.com

Unlike its undead protagonist, who doesn't even pack a pair of flip-flops, Matt Reeves' Let Me In arrives at our cinema doors hefting baggage. For Reeves, it's that difficult second movie — following 2008's found-footage monster-rampage pic Cloverfield — in which he has to prove how he can operate beyond the patronage of J. J. Abrams, Cloverfield's rather better-known producer. And that weight of expectation is doubly increased: not only does Let Me In mark Hammer Studios' official return, it's also the second adaptation of John Ajvide Lindqvist's novel Let The Right One In to be released in the space of two years; the first being scripted by the Swedish novelist himself, directed masterfully by Tomas Alfredson, and earning ecstatic reviews.

Read the Full Movie Review at EmpireOnline.com
Movie Review from TotalFilm.com

Cult Swedish vampire drama Let The Right One In wasn't really about vampires. It was, in fact, an incredibly sweet, subtle story about loneliness, friendship and the mysteries of childhood. Cloverfield writer/director Matt Reeves gets this. His terrific American remake gets almost everything about the original, beautifully translating its plot, character and even style with intelligence, reverence and affection. This time round, we're in early '80s suburban New Mexico. Ronald Reagan is on the TV. 'Do You Really Want to Hurt Me?' is on the radio.

Read the Full Movie Review at TotalFilm.com
Movie Review from Hollywood.com

Matt Reeves' magnificent Let Me In is an Americanized adaptation of Let the Right One In, a Swedish horror film which itself is based on an acclaimed novel by John Ajvide Lindqvist (also Swedish). As such, its setting has been moved from frigid Scandinavia to the more familiar but no less frigid Los Alamos, New Mexico, a town depicted as so bleak and uninviting as to provoke a lawsuit from the state's tourism commission. Its atmosphere is particularly inhospitable to timid loners like 12-year-old Owen (Kodi Smit-McPhee), a spindly late-bloomer who suffers regular humiliations at school courtesy of a trio of pubescent sadists.

Read the Full Movie Review at Hollywood.com
Movie Review from Guardian.co.uk

A very good film, slightly overpraised, has been remade as a slightly good film, very overpraised. Tomas Alfredson's cult Swedish romance Let the Right One In from 2008, about a bullied boy who falls in love with the undead tweenage girl next door, has been repackaged as a Hollywood indie directed by Matt Reeves, marketed at an audience who are keen to get a load of the hip new vampire scene, but obviously turn their discerning noses up at the Twilight franchise. In marketing terms, this remake is very much like those Harry Potter paperbacks with the special "adult" cover-designs or Daniel Barenboim laying on a special orchestral arrangement of a My Chemical Romance album at the Royal Festival Hall.

Read the Full Movie Review at Guardian.co.uk
Movie Review from TimeOut.com

Tomas Alfredson's moody Swedish fairy tale 'Let the Right One In' (2008) monitored the ruinous friendship between two children, the twist being that one was the victim of bullying at school and the other was hungry for human blood. American director Matt Reeves has decided to follow up his meta-monster movie 'Cloverfield' by heading to John Ajvide Lindqvist's ripe source novel for a macabre English-language retooling of the material. He relocates the story to a housing project in New Mexico circa 1983, where David Bowie's 'Let's Dance' is heard wafting from open windows.

Read the Full Movie Review at TimeOut.com
Movie Review from Movies.com

There was no good reason for this movie to exist beyond a lazy American disinterest in subtitles. But having said that, it's pretty great on its own. The stuff that made the original Swedish version so spooky and special has been left intact. No one shoehorns in a heartfelt speech about friendship and the chilling finale is left alone with no softening tweaks to make it more palatable, either physically or psychologically. In fact, it may be the most unsentimental depiction of childhood isolation American movies have delivered in a long time. Its heart may be yearning but heartwarmth is (mostly, wisely) left alone.

Read the Full Movie Review at Movies.com
Movie Review from Telegraph.co.uk

Let Me In, directed by American Matt Reeves, is a remake of one of the loveliest films of recent years, Tomas Alfredson's Let the Right One In (2008). A story about a pale and bullied teenage boy and his relationship with a vampiric girl, it was an exquisite synthesis of atmospherics and frightful incidents, of tenderness and tragedy. Many admirers, myself included, compare it favourably to the Twilight series, and still watch it today: it is, after all, available on DVD. It even has English subtitles. Essentially, it hasn't gone away.

Read the Full Movie Review at Telegraph.co.uk
---
'Let Me In' Stars
Cara Buono, Chloë Grace Moretz, Elias Koteas, Kodi Smit-McPhee, Matt Reeves, Richard Jenkins, Sasha Barrese
---
'Let Me In' Movie Links

Let Me In on IMDb