---
The Cabin in the Woods (2011)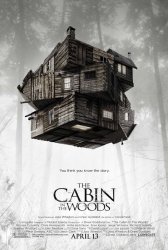 Starring: Kristen Connolly, Chris Hemsworth, Anna Hutchison, Fran Kranz, Jesse Williams, Richard Jenkins
Director: Drew Goddard
Release Date:

April 13th, 2012
Release Date:

13th April, 2012
Running Time: 95 Mins
Synopsis: Five friends go for a break at a remote cabin in the woods, where they get more than they bargained for. Together, they must discover the truth behind the cabin in the woods.
Status:
titlexxx - The Cabin in the Woods Movie Trailer
About the Movie
The Cabin in the Woods is a 2012 American horror film directed and co-written by Drew Goddard and co-written and produced by Joss Whedon. It stars Kristen Connolly, Chris Hemsworth, Anna Hutchison, Fran Kranz, and Jesse Williams. The film follows five friends who travel to a remote cabin for a holiday and become victims of a seemingly stereotypical horror movie plot while being observed via hidden cameras by mysterious office workers.
Goddard and Whedon, having worked together previously on Buffy the Vampire Slayer and Angel, wrote the screenplay in three days, describing it as an attempt to "revitalize" the slasher film genre and a critical satire on torture porn. Filming took place from March to May 2009 on an estimated budget of $30 million, and was shot in Canada. More than 60 artists worked on the effects before filming began.
The Cabin in the Woods premiered on March 9, 2012 at the South by Southwest film festival in Austin, Texas and was released in the United States on April 13, 2012. The film gained mostly positive reviews and grossed over $65 million worldwide.
---
'The Cabin in the Woods' Stars
Anna Hutchison, Chris Hemsworth, Drew Goddard, Fran Kranz, Jesse Williams, Kristen Connolly, Richard Jenkins
---
'The Cabin in the Woods' Movie Links

Official The Cabin in the Woods Movie Website


The Cabin in the Woods on IMDb


The Cabin in the Woods on Wikipedia