---
The Haunting in Connecticut (2009)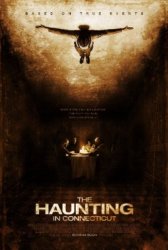 Starring: Amanda Crew, Elias Koteas, Virginia Madsen, Kyle Gallner, Martin Donovan, Kellan Rhude
Director: Peter Cornwell
Release Date:

March 27th, 2009
Release Date:

27th March, 2009
Synopsis: The true story of a family forced to relocate near a clinic where their teenage son was being treated for cancer. The family begins experiencing violent, supernatural events that the parents first blame on stress from the illness, but they later discover that their new home is a former mortuary with a dark past.
Status:
The Haunting in Connecticut Movie Trailer
About the Movie
The Haunting in Connecticut is a 2009 American psychological horror film produced by Gold Circle Films and directed by Peter Cornwell. It is supposedly based on the "true story" of Carmen Snedeker as portrayed by the author Ray Garton in the book In a Dark Place: The Story of a True Haunting (1992). The film's story follows the fictional Campbells as they move into a house (a former mortuary) to mitigate the strains of travel on their cancer-stricken son, Matthew. The family soon becomes haunted by violent and traumatic events from supernatural forces occupying the house.
The Haunting in Connecticut was a moderately successful film, grossing $76,501,870, and received "generally unfavorable reviews" according to Metacritic. Gold Circle Films has announced the production of two more entries in the franchise, The Haunting in Georgia and The Haunting in New York but noted that neither film would be a direct sequel to "Haunting in Connecticut" and will instead be self-contained films with unique characters.
---
'The Haunting in Connecticut' Stars
Amanda Crew, Elias Koteas, Kellan Rhude, Kyle Gallner, Martin Donovan, Peter Cornwell, Virginia Madsen
---
'The Haunting in Connecticut' Movie Links

Official The Haunting in Connecticut Movie Website


The Haunting in Connecticut on IMDb