---
Rise of the Planet of the Apes (2011)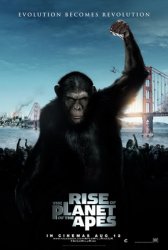 Starring: James Franco, Freida Pinto, John Lithgow, Brian Cox, Tom Felton, Andy Serkis
Director: Rupert Wyatt
Release Date:

August 5th, 2011
Release Date:

11th August, 2011
Running Time: 105 Mins
Synopsis: During experiments to find a cure for Alzheimer's disease, a genetically-enhanced chimpanzee uses its greater intelligence to lead other apes to freedom.
Status:
titlexxx - Rise of the Planet of the Apes Movie Trailer
About the Movie
Rise of the Planet of the Apes is a 2011 American science fiction film directed by Rupert Wyatt. The film stars James Franco and Andy Serkis. It is a reboot of the Planet of the Apes series. It is intended to act as a foundation with its own origin story for a new film series. Its premise is similar to the fourth film in the original series, Conquest of the Planet of the Apes (1972), but it is not a direct remake in that it does not fit into that series' continuity. It was released in the United States, Canada and India on August 5, 2011.
---
Movie Reviews
Movie Review from EmpireOnline.com

The game-changing success of Star Wars tends to wipe away the memory of earlier science-fiction franchises, but before George Lucas signed with 20th Century Fox, the studio's premier property was Planet Of The Apes. Based on La Planète Des Singes, a French novel by Pierre Boulle, the 1968 movie — a mix of Flash Gordon fantasy-action and comic-book Swiftian satire — spun off sequels (little-known trivia fact: Rise Of The Planet Of The Apes was a pre-production title for the last of the original series, Battle For The Planet Of The Apes), TV series, comics, lunch-boxes, masks, action figures etc.

Read the Full Movie Review at EmpireOnline.com
Movie Review from TotalFilm.com

A decade has passed since Tim Burton's Planet Of The Apes reimagining – time enough not just to upgrade its old-school prosthetics with photorealistic CG hominids, but also to learn from its mistakes. In thrall to his 1968 inspiration, Burton produced an inferior copy that, rather like Mark Wahlberg's character Leo, didn't seem to have a single idea in its head. Rupert Wyatt's reboot-slash-prequel rights that immediately by being about something: animal testing, nature versus nurture, the perils of DNA tinkering.

Read the Full Movie Review at TotalFilm.com
Movie Review from Hollywood.com

As its title suggests, Rupert Wyatt's Rise of the Planet of the Apes is intended to lay the foundation for a new franchise of sci-fi flicks in which humans and super-intelligent apes battle for earthly supremacy. Its duty, then, is to explain, within the span of two hours and with a modicum of credulity, how exactly our simian friends might come to supplant us atop the animal kingdom. The scenario was at least partially addressed in Conquest of the Planet of the Apes.

Read the Full Movie Review at Hollywood.com
Movie Review from Guardian.co.uk

Like the birds, the apes can be pretty scary when they get organised. That's what these opposable-thumb-possessors have got their hearts set on in this prequel to the 1968 Charlton Heston classic Planet of the Apes and its successors. It's a smart and highly entertaining popcorn thriller from British-born director Rupert Wyatt, cheerfully satirical in the tradition of this movie series, yet unpretentious at the same time.

Read the Full Movie Review at Guardian.co.uk
Movie Review from TimeOut.com

This stand-alone prequel to Franklin J Schaffner's 'Planet of the Apes' (1968) distinguishes itself from other ill-conceived reboots in general, and from Tim Burton's disastrous 2001 remake in particular, by looking with fresh, simian eyes at its core conflict between human and primates. Aficionados will note that the plot echoes elements of 'Conquest of the Planet of the Apes' (1972), the fourth movie in an already etiolated series.

Read the Full Movie Review at TimeOut.com
Movie Review from Movies.com

My reflex was to cringe when thinking of another movie in the Apes franchise (thanks, Tim Burton). Luckily this movie was like brushing my teeth after a long night of boozing and carousing, fresh and ready to greet the day. Although the CG started out a little shaky, Andy Serkis and his motion capture work quickly won me over as Caesar aged. I completely forgot I wasn't watching a real ape take everything over.

Read the Full Movie Review at Movies.com
Movie Review from Telegraph.co.uk

Alienating reams of visual effects. Nervous, join-the-dots screenwriting. Too many superheroes. This won't go down as a vintage year for summer escapism — often, it's the movies themselves you might have been tempted to flee. Rise of the Planet of the Apes is one of the small handful of pictures — Justin Lin's hot-rod thriller Fast Five was another — that you can feasibly imagine watching again, because it's built on sound enough foundations to last.

Read the Full Movie Review at Telegraph.co.uk
---
'Rise of the Planet of the Apes' Stars
Andy Serkis, Brian Cox, Freida Pinto, James Franco, John Lithgow, Rupert Wyatt, Tom Felton
---
'Rise of the Planet of the Apes' Movie Links

Official Rise of the Planet of the Apes Movie Website


Rise of the Planet of the Apes on IMDb


Rise of the Planet of the Apes on Wikipedia