---
War for the Planet of the Apes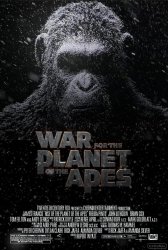 Starring: Andy Serkis, Woody Harrelson, Steve Zahn, Amiah Miller, Karin Konoval, Judy Greer, Terry Notary
Director: Matt Reeves
Release Date:

July 14 2017
Release Date:

11 July 2017
Running Time: 142 Mins
Synopsis: After the apes suffer unimaginable losses, Caesar wrestles with his darker instincts and begins his own mythic quest to avenge his kind.
Status:
About the Movie
War for the Planet of the Apes is an American science fiction film directed by Matt Reeves and written by Mark Bomback and Reeves. It is a sequel to the 2014 film Dawn of the Planet of the Apes and the third installment in the Planet of the Apes reboot series. The film stars Andy Serkis, Woody Harrelson, Steve Zahn, Amiah Miller, Karin Konoval, Judy Greer and Terry Notary.
---
'War for the Planet of the Apes' Stars
Amiah Miller, Andy Serkis, Judy Greer, Karin Konoval, Matt Reeves, Steve Zahn, Terry Notary, Woody Harrelson
---
'War for the Planet of the Apes' Movie Links

War for the Planet of the Apes on IMDb


War for the Planet of the Apes on Wikipedia