---
Local Color (2006)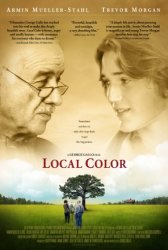 Starring: Armin Mueller-Stahl, Trevor Morgan, Ray Liotta, Charles Durning, Samantha Mathis, Ron Perlman
Director: George Gallo
Release Date:

September 19th, 2008
Synopsis: The story of a troubled teenager who seeks artistic advice from a cantankerous but world-renowned oil painter. Through the course of their time together, the young man learns how to see the world through an artist's eyes and the master learns to view life from innocence again. Based on real characters and incidents in the life of writer/director George Gallo, the film resonates with a poignancy and authenticity rarely seen in movies today.
Status:
Local Color Movie Trailer
About the Movie
Local Color is a 2006 award winning American Drama film. Directed by George Gallo, starring Armin Mueller-Stahl, Ray Liotta and Trevor Morgan in the lead role. It is based on a true story, that of the director/writer's experience when he was 18. Gallo also painted all of the oil paintings in this movie, having "cleaned out his whole garage" of his paintings. The paintings that John (Trevor Morgan) showed to Seroff (Armin Mueller-Stahl) when asking him for advice in the beginning of the movie, were the exact paintings he showed to the person upon whom the Seroff character was based.
Although the film was based in New York and Pennsylvania, the film was actually shot in various locations in Louisiana in and around New Orleans, Covington and Baton Rouge. Production began in July 2005 but was delayed because of the events of Hurricane Katrina.
---
'Local Color' Stars
Armin Mueller-Stahl, Charles Durning, George Gallo, Ray Liotta, Ron Perlman, Samantha Mathis, Trevor Morgan
---
'Local Color' Movie Links

Official Local Color Movie Website


Local Color on IMDb