---
Mammoth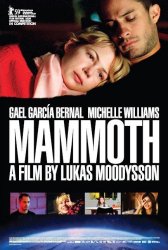 Starring: Gael García Bernal, Michelle Williams, Marife Necesito, Sophie Nyweide, Thomas McCarthy
Director: Lukas Moodysson
Release Date:

5th November, 2010
Synopsis: While on a trip to Thailand, a successful American businessman tries to radically change his life. Back in New York, his wife and daughter find their relationship with their live-in Filipino maid changing around them. At the same time, in the Philippines, the maid's family struggles to deal with her absence.
Status:
About the Movie
Mammoth is a 2009 Swedish fiction film directed by Lukas Moodysson, about a successful New York couple experiencing conditions related to modern day globalization. The couple is played by Gael García Bernal and Michelle Williams, in the roles of Leo and Ellen Vidales. The title superficially refers to the mammoth ivory pen Leo receives as a gift. In addition it relates loosely to a quote from one of Moodysson's poetry collections: "Our Savior buried like a Mammoth."
---
Movie Reviews
Movie Review from EmpireOnline.com

Swedish filmmaker Lukas Moodysson may have gone off the boil since his opening trio of Show Me Love, Together and Lilya 4-Ever but this, his first English-language effort, is a partial return to form. Pinging across the globe, Moodysson interweaves three stories – internet big cheese Gael García Bernal befriends a single-mum prostitute in Bangkok, his wife, Michelle Williams, feels guilty that her job as a New York surgeon keeps her from her daughter and the nanny (Marife Necesito) frets about her own kids back in the Philippines – all around themes of globalisation, rich vs. poor and parents longing for their children.

Read the Full Movie Review at EmpireOnline.com
Movie Review from TotalFilm.com

Following A Hole In My Heart and the dull Container, Mammoth marks Swedish director Lukas Moodysson's return to the narrative mainstream. But where Show Me Love and Together felt fresh, this is a global guilt-trip. Michelle Williams plays an NY C surgeon whose overgrown-boy husband (Gael García Bernal) travels to Bangkok on business. Meanwhile their precocious daughter is cared for by a Filipina live-in nanny who's pining for her own kids back in Manila. Moodysson braids these threads with contrived symmetries. The preaching soon grows wearisome.

Read the Full Movie Review at TotalFilm.com
Movie Review from Telegraph.co.uk

"What happened to him?" was the first question I heard emerging from this, Lukas Moodysson's English-language debut. It's 10 years since Show Me Love and Together installed the Swedish director as Euro art-film's next sensation, and they've all been downhill; still, at least he's stopped wallowing in the human effluent of the near-unendurable A Hole in My Heart. With Michelle Williams and Gael García Bernal on board as fantastically wealthy, obscurely unhappy married New Yorkers, he'll regain an audience of sorts for this Babel-ish drama about the malaises wrought by globalisation, how we're closer than ever, and yet, if I'm not mistaken, farther apart.

Read the Full Movie Review at Telegraph.co.uk
---
'Mammoth' Stars
Gael Garcia Bernal, Lukas Moodysson, Marife Necesito, Michelle Williams, Sophie Nyweide, Thomas McCarthy
---
'Mammoth' Movie Links

Mammoth on IMDb