---
Mary and Max (2009)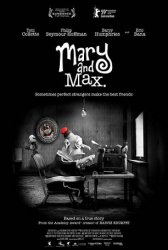 Starring: Toni Collette, Philip Seymour Hoffman, Eric Bana, Barry Humphries, Bethany Whitmore
Director: Adam Elliot
Release Date:

22nd October, 2010
Synopsis: In the mid-1970's, a homely, friendless Australian girl of 8 picks a name out of a Manhattan phone book and writes to him; she includes a chocolate bar. She's Mary Dinkle, the only child of an alcoholic mother and a distracted father. He's Max Horowitz, living alone in New York, overweight, subject to anxiety attacks. He writes back, with chocolate. Thus begins a 20-year correspondence, interrupted by a stay in an asylum and a few misunderstandings.
Status:
Mary and Max Movie Trailer
About the Movie
Mary and Max is a 2009 American/Australian stopmotion claymation feature film directed and written by Adam Elliot. The voice cast included Philip Seymour Hoffman, Toni Collette, Eric Bana, and narrated by Barry Humphries. The film premiered on the opening night of the 2009 Sundance Film Festival. In June 2009, the film won the Annecy Cristal from the Annecy International Animated Film Festival. It won Best Animated Feature Film at the Asia Pacific Screen Awards in November 2009. In 2010 the Australian Centre for the Moving Image displayed an art exhibition about the film. The exhibition will tour regional Victoria to Geelong Art Gallery, Shepparton Art Gallery, Gippsland Art Gallery and Warrnambool Art Gallery managed by National Exhibition Touring Support (NETS) Victoria.
---
Movie Reviews
Movie Review from EmpireOnline.com

Rooted in the fact and by turns touching, bleak and droll, Adam Elliot's feature debut may lack the precision of his Oscar-winning short, Harvie Krumpet, but this grown-up exercise in clayography is bound for cult status. Based on two pen-pals — an eight-year-old Melbourne misfit and a 44 year-old Manhattan outcast — it has its rocky moments. But Barry Humphries' acerbic narration and Bethany Whitmore and Philip Seymour Hoffman's voice-work complement the grimly witty details in the offbeat text and expertly created brown-grey visuals. Tackling such un-animation topics as loneliness, body image, alcoholism, suicide and Asperger's syndrome, it's quirky, compassionate and slightly seedily sweet.

Read the Full Movie Review at EmpireOnline.com
Movie Review from TotalFilm.com

The pen-pal relationship between a lonely little girl from Australia and an obese New Yorker with Asperger's syndrome might not seem a sturdy base for a stop-motion claymation. But in the hands of director Adam Elliot, it's a platform for deliciously dark wit, beautifully crafted 'toonery and fine voice work, particularly from Philip Seymour Hoffman as 'Aspie' Max. Shifting between a sepia Oz and a monochrome Manhattan, Elliot's record of an unconventional friendship revels in grotesque detail and scatological humour, but yields unexpected depth and poignancy.

Read the Full Movie Review at TotalFilm.com
---
'Mary and Max' Stars
Adam Elliot, Barry Humphries, Bethany Whitmore, Eric Bana, Philip Seymour Hoffman, Toni Collette
---
'Mary and Max' Movie Links

Official Mary and Max Movie Website


Mary and Max on IMDb