---
Melancholia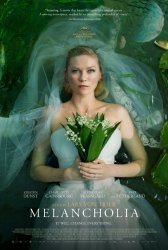 Starring: Kirsten Dunst, Charlotte Gainsbourg, Alexander Skarsgård, Kiefer Sutherland
Director: Lars von Trier
Release Date:

November 11th, 2011
Release Date:

30th September, 2011
Running Time: 136 Mins
Synopsis: On the night of her wedding, Justine is struggling to be happy even though it should be the happiest day of her life. It was an extravagant wedding paid for by her sister and brother-in-law who are trying to keep the bride and all the guests in-line. Meanwhile, Melancholia, a blue planet, is hurtling towards the Earth. Claire, Justine's sister, is struggling to maintain composure with fear of the impending disaster.
Status:
titlexxx - Melancholia Movie Trailer
About the Movie
Melancholia is a 2011 film written and directed by Lars von Trier, starring Kirsten Dunst, Charlotte Gainsbourg and Kiefer Sutherland. The narrative revolves around two sisters during and shortly after the wedding party of one of them, while Earth is about to collide with an approaching rogue planet. The film prominently features music from Richard Wagner's prelude to his opera Tristan und Isolde.
Trier's initial inspiration for the film came from a depressive episode he suffered and the insight that depressed people remain calm in stressful situations. The film is a Danish production by Zentropa, with international co-producers in Sweden, France, Germany and Italy. Filming took place in Sweden.
The film premiered in May 2011 at the 64th Cannes Film Festival. Dunst received the festival's Best Actress Award for her performance.
---
'Melancholia' Stars
Alexander Skarsgård, Charlotte Gainsbourg, Kiefer Sutherland, Kirsten Dunst, Lars von Trier
---
'Melancholia' Movie Links

Melancholia on IMDb


Melancholia on Wikipedia