---
My Life in Ruins (2009)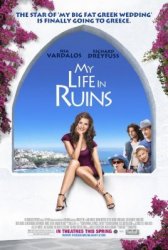 Starring: Nia Vardalos, Richard Dreyfuss, Caroline Goodall, Harland Williams, Rachel Dratch, Jareb Dauplaise
Director: Donald Petrie
Release Date:

June 5th, 2009
Release Date:

2nd October, 2009
Synopsis: Georgia is a Greek American tour guide, who leads an assorted group of misfit tourists around Greece. Tourists who would rather buy a T-Shirt than learn about history. In an hysterical clash of personalities and cultures, everything seems to go wrong. Until one day when a very special tourist, Irv Gordon, shows her how to have fun and take a good look at the last person she'd ever expect to find love with… her quiet and sexy Greek bus driver.
Status:
My Life in Ruins Movie Trailer
About the Movie
My Life in Ruins is an upcoming romantic comedy film set amongst the ruins of ancient Greece, starring Nia Vardalos, Richard Dreyfuss, Alexis Georgoulis, Rachel Dratch, Harland Williams and British comedy actor and impressionist Alistair McGowan. The film is about a tour guide whose life takes a personal detour, while her group gets entangled in comic situations among the ruins with a series of unexpected stops along the way. The film, which has been given a PG-13 rating from the MPAA for sexual content, is scheduled to be released June 5, 2009 in the United States, and May 7, 2009 in Greece.
---
'My Life in Ruins' Stars
Caroline Goodall, Donald Petrie, Harland Williams, Jareb Dauplaise, Nia Vardalos, Rachel Dratch, Richard Dreyfuss
---
'My Life in Ruins' Movie Links

Official My Life in Ruins Movie Website


My Life in Ruins on IMDb