---
Never Let Me Go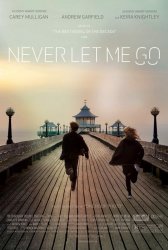 Starring: Carey Mulligan, Andrew Garfield, Keira Knightley, Izzy Meikle-Small, Charlie Rowe, Ella Purnell
Director: Mark Romanek
Release Date:

September 15th, 2010
Release Date:

11th February, 2011
Synopsis: As children, Ruth, Kathy and Tommy, spend their childhood at a seemingly idyllic English boarding school. As they grow into young adults, they find that they have to come to terms with the strength of the love they feel for each other, while preparing themselves for the haunting reality that awaits them.
Status:
Never Let Me Go Movie Trailer
About the Movie
Never Let Me Go is a 2010 British dystopian drama film based on the 2005 novel of the same name written by Kazuo Ishiguro. The movie was directed by Mark Romanek and Alex Garland wrote the screenplay for the film. It stars Carey Mulligan, Keira Knightley and Andrew Garfield. Never Let Me Go centers around Kathy, Ruth and Tommy, played respectively by Mulligan, Knightley and Garfield, who become entangled in a love triangle and are scientific specimens, created in a laboratory and raised in order to provide their organs to severely ill patients. Principal photography began in April 2009, lasting a few weeks, and filmed at various locations, including Andrew Melville Hall. Made on a fifteen million dollar budget, Never Let Me Go is produced by DNA Films and Film4.
Prior to the books publication, the writer had approached the movie's producers, Andrew Macdonald and Andrew Reich, about a possible movie, and wrote the film a 96 page script. Having initially had trouble finding an actress to play Kathy, Mulligan was cast in the role after Peter Rice, who is the head of the company financing the film, recommended her while watching her performance in An Education. A fan of the books, Mulligan ecstatically accepted the role, having hoped to play that specific character if a film adaption were to ever be made of the book years before. The movie's message and themes were the factors that attracted Garfield to becoming apart of the film.
Never Let Me Go premiered at the 37th annual Telluride Film Festival in September 2010, where the audience positively responded to its message. The movie has since been screened at a number of festivals, including the 2010 Toronto International Film Festival as well as opening the 54th London Film Festival. It was distributed theatrically by Fox Searchlight Pictures in the United States on September 15, 2010, where it was given a limited release, playing at less than fifty theaters. Other release dates for the movie include a January 14, 2011, date for the United Kingdom. In the US, playing at four theaters, Never Let Me Go grossed over $111,000 in its opening weekend. As the number of theaters it played at began to expand, it continued to make more money each week, going to earn over $800,000 in total domestically. Never Let Me Go was met with mixed reviews from film critics, with most reviewers generally praising the cast's overall performances.
---
'Never Let Me Go' Stars
Andrew Garfield, Carey Mulligan, Charlie Rowe, Ella Purnell, Izzy Meikle-Small, Keira Knightley, Mark Romanek
---
'Never Let Me Go' Movie Links

Official Never Let Me Go Movie Website


Never Let Me Go on IMDb