---
An Education (2009)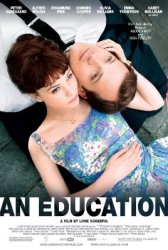 Starring: Peter Sarsgaard, Carey Mulligan, Alfred Molina, Dominic Cooper, Rosamund Pike, Olivia Williams, Emma Thompson
Director: Lone Scherfig
Release Date:

October 16th, 2009
Release Date:

30th October, 2009
Synopsis: It's 1961 and Jenny is a bright young girl on the cusp of her 17th birthday. She finds herself stifled by the tedium of adolescent routine and can't wait for adult life to begin. One rainy day, her suburban life is upended by the arrival of an unsuitable suitor, 30- ish David. Urbane and witty, David introduces Jenny to a glittering new world of classical concerts and late-night suppers. Prior to meeting David, Jenny was trying to excel in her life by going to Oxford. Once she sees the lifestyle David can provide, she is hooked and thoughts of Oxford go out the window. Then, when things are looking pretty good for Jenny with the dashing David, the truth hits her like a ton of bricks. Jenny goes from being a bright eyed school girl to a sophisticated young lady and then all the way back to questioning if she really knows who she is at all.
Status:
An Education Movie Trailer
About the Movie
An Education is a British coming-of-age drama film based on an autobiographical memoir of the same title written by the British journalist Lynn Barber. The film was directed by Lone Scherfig, and the screenplay written by Nick Hornby. It features an ensemble cast including Academy Award winner Emma Thompson, Peter Sarsgaard, Dominic Cooper, headed by Carey Mulligan. It premiered at the 2009 Sundance Film Festival, gaining critical acclaim.
---
'An Education' Stars
Alfred Molina, Carey Mulligan, Dominic Cooper, Emma Thompson, Lone Scherfig, Olivia Williams, Peter Sarsgaard, Rosamund Pike
---
'An Education' Movie Links

Official An Education Movie Website


An Education on IMDb