---
The Devil's Double (2011)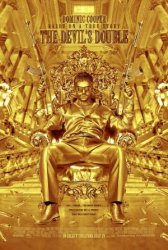 Starring: Dominic Cooper, Ludivine Sagnier, Raad Rawi, Philip Quast, Mimoun Oaïssa
Director: Lee Tamahori
Release Date:

10th August, 2011
Running Time: 109 Mins
Synopsis: A chilling vision of the House of Saddam Hussein comes to life through the eyes of the man who was forced to become the double of Hussein's sadistic son.
Status:
titlexxx - The Devil's Double Movie Trailer
About the Movie
The Devil's Double is a 2011 drama film directed by Lee Tamahori and starring Dominic Cooper, Philip Quast, Ludivine Sagnier and Raad Rawi. It was released on January 22, 2011 at the 2011 Sundance Film Festival and was released in limited theaters on July 29, 2011 by Lionsgate and Herrick Entertainment.
---
Movie Reviews
Movie Review from EmpireOnline.com

Where other filmmakers have tip-toed pensively through the minefield of Iraq, Lee Tamahori jumps into his monster truck, puts on his blindfold and bulldozes right through it. Refusing point-blank to engage in any kind of political debate and relaying no message other than 'dictators are bad', The Devil's Double reconfigures the House Of Hussein as a bad-taste, bad-ass, pimped-up gangster epic. And not only that; it gets away with it, too.

Read the Full Movie Review at EmpireOnline.com
Movie Review from TotalFilm.com

You get two Dominic Coopers for the price of one in Lee Tamahori's latest, a fact-based thriller about a man who spent four years being the 'fiday' (double) of Saddam Hussein's deranged son Uday. That much is corroborated, both by public record and by double Latif Yahia himself, a former schoolmate of Uday's who would later flee Iraq and has since settled in the West. The Devil's Double, however, uses it as a mere springboard, morphing Latif's very real dilemma into a lurid and extremely violent portrait of power's capacity to corrupt absolutely.

Read the Full Movie Review at TotalFilm.com
Movie Review from Guardian.co.uk

Right now, James Corden is getting rave reviews for his dual stage performance in One Man, Two Guvnors at London's National theatre. As it happens, his History Boys classmate Dominic Cooper is giving his own doppelgänger turn in this movie set at the time of the Gulf war in 1990. Cooper plays Saddam Hussein's pampered son Uday and also Uday's horrified body double Latif Yahia, in a gruesomely violent, toweringly unsubtle, fantastically crass but watchable thriller, inspired by DePalma's Scarface, with a touch of Bond villainy.

Read the Full Movie Review at Guardian.co.uk
Movie Review from TimeOut.com

Imagine an Iraqi take on 'The Sopranos', with Saddam Hussein in the Tony role, wringing his hands in despair at the young generation (Why must they torture in public? Isn't that why we have Abu Ghraib?). This blinged-up, bizarre film is loosely based on an autobiography by Latif Yahia, who for five years was the body-double of Uday Hussein, Saddam's sadistic first born. Weirdly, it's in English with non-Iraqis playing the central characters.

Read the Full Movie Review at TimeOut.com
Movie Review from Movies.com

This almost completely true story is so juicy and unbelievable, it really caught me by surprise. To describe Dominic Cooper's performance as spectacular is an understatement--he basically brings three characters to life, differentiating each of them perfectly. His Uday is unhinged even in his quieter moments, and contrasts with the observant, thoughtful Latif. Then, when Latif becomes Uday, he brings to life yet a third character.

Read the Full Movie Review at Movies.com
Movie Review from Telegraph.co.uk

The story of "Black Prince" Uday Hussein and his bodyguard, Latif Yahia, could have been fascinating in the hands of a Michael Mann. Unfortunately, this is ill-considered trash: Lee Tamahori turns it into a repugnant and dramatically mangled Scarface homage. Opposite Ludivine Sagnier, in a performance that's vapidly lascivious even for her, Dominic Cooper is hammily amusing in one part and merely wooden in the other.

Read the Full Movie Review at Telegraph.co.uk
---
'The Devil's Double' Stars
Dominic Cooper, Lee Tamahori, Ludivine Sagnier, Mimoun Oaïssa, Philip Quast, Raad Rawi
---
'The Devil's Double' Movie Links

The Devil's Double on IMDb


The Devil's Double on Wikipedia