---
Tamara Drewe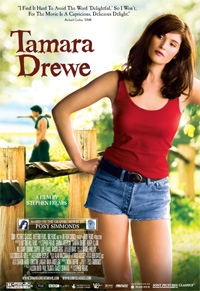 Starring: Gemma Arterton, Roger Allam, Bill Camp, Dominic Cooper, Luke Evans, Tamsin Greig
Director: Stephen Frears
Release Date:

October 8th, 2010
Release Date:

10th September, 2010
Synopsis: A young newspaper writer returns to her home town in the English countryside. Her childhood home is being prepared for sale. She is instinctively a bit shy and emotional girl but she reinvents herself as a smouldering femme fatale, kicking up a storm wherever she goes.
Status:
Tamara Drewe Movie Trailer
About the Movie
Tamara Drewe is a 2010 film directed by Stephen Frears. The screenplay was written by Moira Buffini, based on the graphic novel of the same name written by Posy Simmonds. The comic strip which serves as source material was a modern reworking of Thomas Hardy's nineteenth century novel Far from the Madding Crowd. The film premiered at the 2010 Cannes Film Festival in May and was released nationwide in France on 14 July 2010. Momentum Pictures will release the film in the UK on 10 September 2010.
---
Movie Reviews
Movie Review from EmpireOnline.com

There's a suitably chucklesome opening to this smart comic fable of follies — adapted by Moira Buffini from the Posy Simmonds graphic novel very loosely inspired by Thomas Hardy's Far From The Madding Crowd. At a writers' retreat in Hardy country a group of aspiring authors perch around house and garden penning projects in a multiplicity of genres. Each of them is neatly sketched in individual voiceovers of their paragraphs in progress.
From here there are multiple points of view in which none of the characters know what we know, apart from a keen Hardy scholar (unsung American actor Bill Camp, outstanding as the observer of events). All one can do is sit back and enjoy the foolishness unfolding and heading towards catastrophe.

Read the Full Movie Review at EmpireOnline.com
Movie Review from TotalFilm.com

After dull period misstep Chéri, Stephen Frears finds his mojo again with a frothy diversion that makes no great claims but succeeds brilliantly as polished entertainment.
Adapted from Posy Simmonds' graphic novel, itself inspired by Thomas Hardy's Far From The Madding Crowd, it's a bucolic caper about a bunch of self-absorbed city folk causing a ruckus in rural Dorset. It's smart, sprightly and just a little bit dark.

Read the Full Movie Review at TotalFilm.com
Movie Review from Guardian.co.uk

The unpicturesque malice and boredom of the middle-class English countryside are cheerfully recounted in this broad Day-Glo comedy with brutal moments of violence; Stephen Frears directs from a screenplay by Moira Buffini, based on the Posy Simmonds comic-book series. It's set in a world where people stick their noses into other people's business, or turn them up or otherwise get them put out of joint – and so, fittingly, a nose is here something to be surgically fixed or broken with a single, vicious punch. It's like a particularly salacious episode of The Archers, or a Midsomer Murders with the violence left to the end and left casually uninvestigated. There is the taste of a McVitie's Boaster laced with mephedrone.

Read the Full Movie Review at Guardian.co.uk
Movie Review from TimeOut.com

The dullness of British mainstream cinema is epitomised by this Stephen Frears – didn't he used to be an auteur? – adaptation of Posy Simmonds's gently teasing 2005-2007 Guardian comic strip about rural goings-on. In the sense that you have soft porn, this is soft Brecht, a gentle, mildly amusing deconstruction of rural melodrama offering a self-amused wink at Hardy and Austen but being smiled back at by Mills and Boon.
Gemma Arterton's tightly clad titular music journo returns to the country to inherit her family pile and set three lots of hearts and groins aflame: lecherous fiftysomething writer Nick (Roger Allam), teen-throb indie muso Ben (Dominic Cooper) and her childhood sweetheart, bare-torsoed handyman Andy (Luke Evans).

Read the Full Movie Review at TimeOut.com
Movie Review from Telegraph.co.uk

Of course, Stephen Frears can turn his hand to anything – costume drama in last year's Cheri, romantic comedy in High Fidelity, beady-eyed investigations of modern-day politics in The Queen and in The Deal – but he's probably most celebrated for My Beautiful Laundrette and Dirty Pretty Things, films that shine a light on dark doings in Babylonian London. It's still a surprise that Tamara Drewe, his latest left-turn, is a tart but essentially bucolic romp in Dorset with characters based on Thomas Hardy's Far From the Madding Crowd.

Read the Full Movie Review at Telegraph.co.uk
---
'Tamara Drewe' Stars
Bill Camp, Dominic Cooper, Gemma Arterton, Luke Evans, Roger Allam, Stephen Frears, Tamsin Greig
---
'Tamara Drewe' Movie Links

Tamara Drewe on IMDb