---
One Day (2011)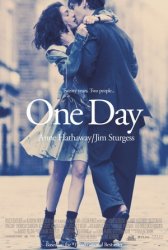 Starring: Anne Hathaway, Jim Sturgess, Tom Mison, Jodie Whittaker, Tim Key, Rafe Spall
Director: Lone Scherfig
Release Date:

August 19th, 2011
Release Date:

24th August, 2011
Running Time: 108 Mins
Synopsis: After spending the night together on the night of their college graduation Dexter and Em are shown each year on the same date to see where they are in their lives. They are sometimes together, sometimes not, on that day.
Status:
titlexxx - One Day Movie Trailer
About the Movie
One Day is a film directed by Lone Scherfig. It was adapted by David Nicholls from his 2009 novel of the same name. It stars Anne Hathaway and Jim Sturgess. Focus Features, which holds worldwide distribution rights (excluding UK free-TV, which is to be held by Film4), released the film theatrically in August 2011.
---
Movie Reviews
Movie Review from EmpireOnline.com

Subtitled "Twenty Years, Two People", David Nicholls' third novel, One Day, was ubiquitous in 2009, a stalwart on '3 for 2' tables and book-club reading lists ever since. Yet for all its populist success, Nicholls' book is no bland beach read. Out of its tricksy structure — we catch up with two friends on the same day every year for 20 years — Nicholls built up a recognisable, affecting central relationship, a pin-sharp picture of how Britain has changed over the last 20 years and a poignant portrait of how our youthful aspirations get realigned over time.

Read the Full Movie Review at EmpireOnline.com
Movie Review from TotalFilm.com

One way to sidestep the pitfalls inherent in adapting a beloved novel: hire the author to pen the screenplay. Yet while David Nicholls' bestseller is already cinematic, with its snapshot structure and sparkling dialogue, his adap lifts scenes with their internal monologue inevitably lost. What's left is a simple and effective love story that never gets too far beneath the surface. Anne Hathaway and Jim Sturgess are Emma and Dexter, who meet on the eve of their graduation in 1988.

Read the Full Movie Review at TotalFilm.com
Movie Review from Guardian.co.uk

It's just 24 hours out of a person's life, but that can be a long, momentous and rather depressing time – as Ivan Denisovich will tell you. David Nicholls's hugely loved bestseller One Day, whose distinctive orange jacket design adorns beaches and train-carriages all over the country, has now, unfortunately, been turned into a slushy, mawkish and weirdly humourless romance with a sub-Richard Curtis style and more endings than Lord of the Rings.

Read the Full Movie Review at Guardian.co.uk
Movie Review from TimeOut.com

The worries about this adaptation of David Nicholls' much-loved and likeable 2009 novel were obvious when it was first announced. Could Anne Hathaway pull off the character of a Northern lass ('We spent all our summers in a caravan in Whitby'), first as an Edinburgh student and later a graduate working in a Taco joint? Would Danish director Lone Scherfig be sensitive to the book's subtle but playful period stylings?

Read the Full Movie Review at TimeOut.com
Movie Review from Movies.com

Let's face it, folks--being forced to stare at Jim Sturgess and Anne Hathaway for a couple hours isn't the worst way to spend some time. But in this case, eye candy is about all viewers can expect. One Day is like a soufflé--it looks gorgeous and has a light yummy quality, but it's mostly hollow and falls flat fast. Director Lone Scherfig (An Education) directs this gimmicky film adaptation of David Nicholl's best-selling novel, which should have been titled Relationship's Greatest Hits.

Read the Full Movie Review at Movies.com
Movie Review from Telegraph.co.uk

David Nicholls's One Day is that rare thing – a romantic novel that male readers are drawn to at least as much as women. In an era of great pessimism about the future of books, it's a work that inspires devotion as much as admiration, that drives its fans to buy multiple copies to give to friends. It's also an Anglo-American creation that marries a When Harry Met Sally storyline to deeply English material.

Read the Full Movie Review at Telegraph.co.uk
---
'One Day' Stars
Anne Hathaway, Jim Sturgess, Jodie Whittaker, Lone Scherfig, Rafe Spall, Tim Key, Tom Mison
---
'One Day' Movie Links

Official One Day Movie Website


One Day on IMDb


One Day on Wikipedia