---
Ninja Assassin (2009)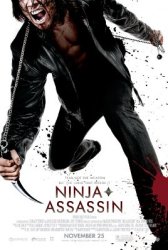 Starring: Naomie Harris, Rain, Sung Kang, Rick Yune, Randall Duk Kim, Ben Miles, Shô Kosugi
Director: James McTeigue
Release Date:

November 25th, 2009
Release Date:

27th November, 2009
Synopsis: Raizo is one of the world's deadliest assassins, having been kidnapped as a child and raised by the Ozunu Clan, believed by the world to be a myth. When Raizo's friend is executed by the clan, Raizo flees into hiding. Meanwhile Europol agent Mika Coretti has stumbled upon a money trail linking several political murders to an underground network of untraceable assassins from the Far East. Defying the orders of her superior, Ryan Maslow, Mika digs into top secret agency files to learn the truth behind the murders. Her investigation makes her a target, and the Ozunu Clan sends a team of killers to silence her forever. Raizo saves Mika from her attackers, but he knows that the Clan will not rest until they are both eliminated. Now, entangled in a deadly game of cat and mouse through the streets of Europe, Raizo and Mika must trust one another if they hope to survive and finally bring down the elusive Ozunu Clan.
Status:
Ninja Assassin Movie Trailer
About the Movie
Ninja Assassin is an upcoming martial arts film directed by James McTeigue and starring Rain. The film is produced by Joel Silver and the Wachowski brothers, and filming took place in Berlin, Germany. The film is scheduled to be released on November 25, 2009.
---
'Ninja Assassin' Stars
Ben Miles, James McTeigue, Naomie Harris, Rain, Randall Duk Kim, Rick Yune, Shô Kosugi, Sung Kang
---
'Ninja Assassin' Movie Links

Official Ninja Assassin Movie Website


Ninja Assassin on IMDb