---
V for Vendetta (2005)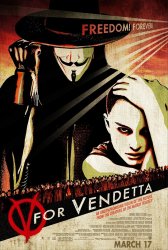 Starring: Natalie Portman, Hugo Weaving, Stephen Rea, Stephen Fry, John Hurt
Director: James McTeigue
Release Date:

March 17th, 2006
Release Date:

17th March, 2006
Synopsis: Set against the futuristic landscape of totalitarian Britain, V For Vendetta tells the story of a mild-mannered young woman named Evey who is rescued from a life-and-death situation by a masked vigilante known only as "V." Incomparably charismatic and ferociously skilled in the art of combat and deception, V ignites a revolution when he detonates two London landmarks and takes over the government-controlled airwaves, urging his fellow citizens to rise up against tyranny and oppression. As Evey uncovers the truth about V's mysterious background, she also discovers the truth about herself – and emerges as his unlikely ally in the culmination of his plot to bring freedom and justice back to a society fraught with cruelty and corruption.
Status:
V for Vendetta Movie Trailer
About the Movie
V for Vendetta is a 2006 dystopian science fiction-thriller film directed by James McTeigue and produced by Joel Silver and the Wachowski brothers, who also wrote the screenplay. The film is an adaptation of the graphic novel V for Vendetta by Alan Moore and David Lloyd. Set in London in a near-future dystopian society, the film follows the mysterious V, a freedom fighter seeking to effect sociopolitical change while simultaneously pursuing his own violent personal vendetta. The film stars Natalie Portman as Evey Hammond, Hugo Weaving as V, Stephen Rea as Inspector Finch and John Hurt as Chancellor Sutler.
The film was originally scheduled for release by Warner Bros. Friday, November 4, 2005 (a day before the 400th Guy Fawkes Night), but was delayed; it opened on March 17, 2006. Reviews were positive and the worldwide box office was over $132 million, but Alan Moore, having been disappointed with the film adaptations of two of his other graphic novels, From Hell and The League of Extraordinary Gentlemen, refused to view the film and subsequently distanced himself from it. The filmmakers removed many of the anarchist themes and drug references present in the original story and also altered the political message to what they believed would be more relevant to a 2006 audience.
---
'V for Vendetta' Stars
Hugo Weaving, James McTeigue, John Hurt, Natalie Portman, Stephen Fry, Stephen Rea
---
'V for Vendetta' Movie Links

Official V for Vendetta Movie Website


V for Vendetta on IMDb