---
The Matrix (1999)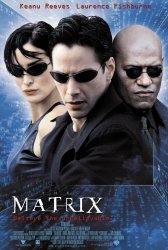 Starring: Keanu Reeves, Laurence Fishburne, Carrie-Anne Moss, Hugo Weaving, Joe Pantoliano
Director: Andy Wachowski, Larry Wachowski
Release Date:

March 31st, 1999
Release Date:

11th June, 1999
Synopsis: Thomas Anderson is a man living two lives. By day he is an average computer programmer and by night a malevolent hacker known as Neo. Neo has always questioned his reality but the truth is far beyond his imagination. Neo finds himself targeted by the police when he is contacted by Morpheus, a legendary computer hacker branded a terrorist by the government. Morpheus awakens Neo to the real world, a ravaged wasteland where most of humanity have been captured by a race of machines which live off of their body heat and imprison their minds within an artificial reality known as the Matrix.
Status:
About the Movie
The Matrix is a 1999 American science fiction-action film directed by Larry and Andy Wachowski; starring Keanu Reeves, Laurence Fishburne, Carrie-Anne Moss, Joe Pantoliano, and Hugo Weaving. It was first released in the U.S. on March 31, 1999, and is the first installment in The Matrix series of films, comic books, video games, and animation.
The film describes a future in which reality as perceived by humans is actually the Matrix: a simulated reality created by sentient machines to pacify and subdue the human population, while their bodies' heat and electrical activity are used as an energy source. Upon learning this, computer programmer "Neo" is drawn into a rebellion against the machines, involving other people who have been freed from the "dream world" and into reality. The film contains many references to the cyberpunk and hacker subcultures; philosophical and religious ideas; and homages to Alice's Adventures in Wonderland, Hong Kong action cinema, Spaghetti Westerns, dystopian fiction, and Japanese animation.
---
'The Matrix' Stars
Andy Wachowski, Carrie-Anne Moss, Hugo Weaving, Joe Pantoliano, Keanu Reeves, Larry Wachowski, Laurence Fishburne, Matrix Trilogy
---
'The Matrix' Movie Links

Official The Matrix Movie Website


The Matrix on IMDb