---
The Matrix Reloaded (2003)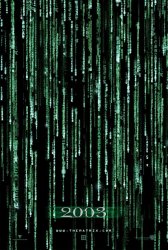 Starring: Keanu Reeves, Laurence Fishburne, Carrie-Anne Moss, Hugo Weaving, Jada Pinkett Smith, Monica Bellucci
Director: Andy Wachowski, Larry Wachowski
Release Date:

May 15th, 2003
Release Date:

21st May, 2003
Synopsis: Neo, Morpheus, Trinity, and the rest of their crew continue to battle the machines that have enslaved the human race in the Matrix. As their quest unfolds, Neo learns more about his super-heroic abilities, including the ability to see the codes of the people and things around him. Simultaneously, now, more humans are waking up out of the Matrix and attempting to live in the real world. As their numbers grow, the battle moves to Zion–the last real-world city and center of human resistance.
Status:
The Matrix Reloaded Teaser Trailer
About the Movie
The Matrix Reloaded is a 2003 American science fiction film and the second installment in The Matrix trilogy, written and directed by the Wachowski brothers. It premiered on May 7, 2003, in Westwood, Los Angeles, California, and went on general release by Warner Bros. in North American theatres on May 15, 2003, and around the world during the latter half of that month. It was also screened out of competition at the 2003 Cannes Film Festival. The video game Enter the Matrix, which was released May 15, and a collection of nine animated shorts, the Animatrix, which was released on June 3, supported and expanded the storyline of the movie. The Matrix Revolutions, which completes the story, was released six months after Reloaded in November 2003.
---
'The Matrix Reloaded' Stars
Andy Wachowski, Carrie-Anne Moss, Hugo Weaving, Jada Pinkett Smith, Keanu Reeves, Larry Wachowski, Laurence Fishburne, Matrix Trilogy, Monica Bellucci
---
'The Matrix Reloaded' Movie Links

Official The Matrix Reloaded Movie Website


The Matrix Reloaded on IMDb