---
Percy Jackson & the Olympians: The Lightning Thief (2010)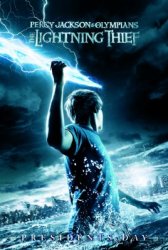 Starring: Logan Lerman, Uma Thurman, Pierce Brosnan, Sean Bean, Kevin McKidd, Rosario Dawson, Alexandra Daddario, Catherine Keener
Director: Chris Columbus
Release Date:

February 12th, 2010
Release Date:

12th February, 2010
Synopsis: It's the 21st century, but the gods of Mount Olympus and assorted monsters have walked out of the pages of high school student Percy Jackson's Greek mythology texts and into his life. And they're not happy: Zeus' lightning bolt has been stolen, and Percy is the prime suspect. Even more troubling is the sudden disappearance of Percy's mother. As Percy finds himself caught between angry and battling gods, he and his friends embark on a cross-country adventure to catch the true lightning thief, save Percy's mom, and unravel a mystery more powerful than the gods themselves.
Status:
Percy Jackson & the Olympians: The Lightning Thief Movie Trailer
About the Movie
Percy Jackson & the Olympians: The Lightning Thief is an upcoming fantasy-adventure film directed by Chris Columbus. The film is an adaptation of The Lightning Thief, the first novel in the Percy Jackson & The Olympians series by Rick Riordan. It will star Logan Lerman as the titular Percy Jackson alongside an ensemble cast which includes Brandon T. Jackson, Alexandra Daddario, Jake Abel, Rosario Dawson, Steve Coogan, Uma Thurman, Catherine Keener, Sean Bean and Pierce Brosnan. It is set to be released on February 12, 2010.
---
'Percy Jackson & the Olympians: The Lightning Thief' Stars
Alexandra Daddario, Catherine Keener, Chris Columbus, Kevin McKidd, Logan Lerman, Pierce Brosnan, Rosario Dawson, Sean Bean, Uma Thurman
---
'Percy Jackson & the Olympians: The Lightning Thief' Movie Links

Official Percy Jackson & the Olympians: The Lightning Thief Movie Website


Percy Jackson & the Olympians: The Lightning Thief on IMDb