---
Priest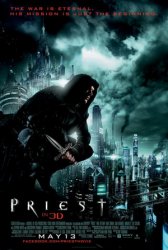 Starring: Lily Collins, Cam Gigandet, Karl Urban, Paul Bettany, Maggie Q, Christopher Plummer
Director: Scott Charles Stewart
Release Date:

May 13th, 2011
Release Date:

11th May, 2011
Running Time: 87 Mins
Synopsis: A post-apocalyptic sci-fi thriller set in an alternate world, one ravaged by centuries of war between man and vampires. A legendary Warrior Priest from the last Vampire War now lives in obscurity among the other downtrodden human inhabitants in walled-in dystopian cities ruled by the Church. When his niece is abducted by a murderous pack of vampires, Priest breaks his sacred vows to venture out on a quest to find her before they turn her into one of them.
Status:
titlexxx - Priest Movie Trailer
About the Movie
Priest is a 2011 American horror film starring Paul Bettany as the title character. The film, directed by Scott Stewart, is based on the Korean comic of the same name. In an alternate world, humanity and vampires have warred for centuries. After the last Vampire War, the veteran Warrior Priest (Bettany) lives in obscurity with other humans inside one of the Church's walled cities. When the Priest's niece (Lily Collins) is kidnapped by vampires, the Priest breaks his vows to hunt them down. He is accompanied by the niece's boyfriend (Cam Gigandet), who is a wasteland sheriff, and a former Warrior Priestess (Maggie Q).
The film first entered development in 2005, when Screen Gems bought the spec script by Cory Goodman. In 2006 Andrew Douglas was attached to direct and Gerard Butler was attached to star. They were eventually replaced by Stewart and Bettany in 2009 and filming started in Los Angeles, California, later in the year. The film changed release dates numerous times throughout 2010 and 2011. It was especially pushed back from 2010 to 2011 to convert the film from 2D to 3D. It is scheduled to be released in the United States and Canada on May 13, 2011.
---
'Priest' Stars
Cam Gigandet, Christopher Plummer, Karl Urban, Lily Collins, Maggie Q, Paul Bettany, Scott Charles Stewart
---
'Priest' Movie Links

Official Priest Movie Website


Priest on IMDb


Priest on Wikipedia