---
The Secret Life of Bees (2008)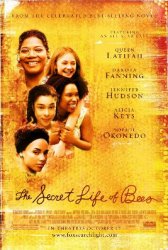 Starring: Queen Latifah, Dakota Fanning, Jennifer Hudson, Alicia Keys, Paul Bettany, Hilarie Burton
Director: Gina Prince-Bythewood
Release Date:

October 17th, 2008
Release Date:

5th December, 2008
Synopsis: Lily Owens is a young girl who lives on a peach farm that her abusive father owns. Rosaleen black woman hired by Lily's father to be a stand in mother for Lily (Her real mother died in a horrendous accident that happened when she was a toddler). but when Rosaleen insults some of the biggest racists in their town, Lily is forced to take Rosaleen and run away to a town Lily believer her mother once lived. They go to live with three estranged sisters on a honey farm, and Lily soon learns what it is like to have a real family.
Status:
The Secret Life of Bees Movie Trailer
About the Movie
The Secret Life of Bees is a 2008 American drama film, adapted from the novel of the same name by Sue Monk Kidd. The film was directed by Gina Prince-Bythewood and produced by Will Smith with his wife, Jada Pinkett Smith, as executive producer. The film was released in North America on October 17, 2008 and in the United Kingdom on December 5, 2008.
---
Movie Reviews
Movie Review by Marty Meltz
Quality – 6 out of 10
A moving theme in a largely unmoving film. The book on which it's based must have been so much bigger. You can laud the beauty of emotional values in a movie endlessly, but most of us just want to be entertained. Emotions in themselves are inside of each of us; a good movie is supposed to take you over, to own you, and so to draw those emotions out. Once there, its emotions are your emotions. "The Secret Life of Bees" did not do that for me. Some of its scenes are gripping, but its general flow is unstimulating. Too much is left in charge of its words, which are not evocative. I found myself pulling and pulling for full-blooded dimension in interactions that seemed to deserve that. Drama, in scene after scene, just doesn't emanate from the screen except with a few welcome occasions.
It's 1964 and 14-year-old Lily Owens (Dakota Fanning) finds that the weight of her mother's death and her troubled relationship with her abusive father (Paul Bettany) are just too much. She escapes with housekeeper and caregiver Rosaleen (Jennifer Hudson) to a South Carolina town. Yet young Lily seeks an understanding of her mother's past. She is invited to live with the intelligent and independent Boatwright sisters, wise matriarch August (Queen Latifah), emotionally brittle May (Sophie Okonedo) and willful June (Alicia Keys), a cellist and civil rights activist, where she finds peace of soul and spirit in their enchanting world of beekeeping and honey gathering.
At one point, Rosaleen, a black, attempts to register to vote and is badly beaten by rednecks. This will set off other cruel racist encounters. One will involve a black local boy, Zach (Tristan Wilds) who will be in mutual attraction with Lily.
A seemingly worthwhile serious affair is between strong-headed June and her boyfriend Neil (Nate Parker), but darn, it does not, plot wise, rise off the screen.
Things will climax when Lily's ornery dad tracks her down and wants her back.
The racial conflicts, always stomach-churning, are nonetheless old hat, unfortunate tragedies from the Deep South which have been dealt with over countless movies. I looked for a variation, a new statement, a new insight, but there was only rehash of a dark American past.
You can respect this movie, but to like it? Mmm . . .

Read More Movie Reviews at Marty at the Movies
---
'The Secret Life of Bees' Stars
Alicia Keys, Dakota Fanning, Gina Prince-Bythewood, Hilarie Burton, Jennifer Hudson, Paul Bettany, Queen Latifah
---
'The Secret Life of Bees' Movie Links

The Secret Life of Bees on IMDb