---
Quantum of Solace (2008)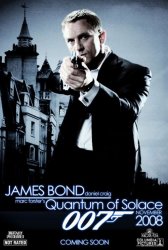 Starring: Daniel Craig, Mathieu Amalric, Judi Dench, Gemma Arterton, Olga Kurylenko, Rachel McDowall, Jeffrey Wright, Stana Katic
Director: Marc Forster
Release Date:

November 14th, 2008
Release Date:

31st October, 2008
Synopsis: Quantum of Solace continues the high octane adventures of James Bond in Casino Royale. Betrayed by Vesper, the woman he loved, 007 fights the urge to make his latest mission personal. Pursuing his determination to uncover the truth, Bond and M interrogate Mr White who reveals the organisation which blackmailed Vesper is far more complex and dangerous than anyone had imagined.
Status:
Quantum of Solace Movie Trailer
About the Movie
Quantum of Solace (2008) is the 22nd James Bond film by EON Productions and is the direct sequel to the 2006 film Casino Royale. Directed by Marc Forster, it features Daniel Craig's second performance as James Bond. In the film, Bond battles Dominic Greene (Mathieu Amalric), a member of the Quantum organisation posing as an environmentalist who intends to stage a coup d'état in Bolivia to take control of its water supply. Bond seeks revenge for the death of his lover, Vesper Lynd, and is assisted by Camille Montes (Olga Kurylenko), who is also seeking revenge.
Producer Michael G. Wilson developed the film's plot while Casino Royale was shooting. Neal Purvis, Robert Wade, Paul Haggis, and Joshua Zetumer contributed to the script. The title was chosen from a 1960 short story in Ian Fleming's For Your Eyes Only, though the film does not contain any elements of the original story. Location filming took place in Panama, Chile, Italy, and Austria while interior sets were built and filmed at Pinewood Studios. Forster aimed to make a modern film that also featured classic cinema motifs: a vintage aeroplane was used for a dogfight sequence, and Dennis Gassner's set designs are reminiscent of Ken Adam's work on several early Bond films. Taking a course away from the usual Bond villains, Forster rejected any grotesque appearance for the character Dominic Greene to emphasise the hidden and secret nature of the film's contemporary villains.
The film premiered at the Odeon Leicester Square on 29 October 2008, gathering mixed reviews which mainly praised Craig's gritty performance and the film's action sequences while feeling that Quantum of Solace was not as impressive as the predecessor Casino Royale. It was, however, the second most commercially successful Bond film, earning GBP£50 million in product placement, and grossing USD$575,952,505 at the box office as of 9 March 2009: notably close to its predecessor's record.
---
Movie Reviews
Movie Review by Ben Kenber
Score – 3 out of 4
So what's all this talk about wanting to "old Bond" back? A lot of talk about the latest Bond movie, "Quantum Of Solace," is that they miss the Bond who had all the gadgets, knew all the best wines, had his shaken not stirred martinis, and always bedded the most beautiful of women. Wait a second, isn't that what we were all getting sick of after "Die Another Day?" Didn't we want to see the Bond series revitalized? Isn't that why "Casino Royale" was so damn good? That it didn't give us the same old Bond and gave us a tough new one who you could for once say honestly was the best one since Sean Connery. Roger Ebert in his review of this movie said that he wanted the producers that James Bond is not an action hero. Not an action hero? Is that what you see here Roger? Because that's not what I see here at all. Instead, I see a man who is devastated by loss and betrayal, and who is trying to keep his head on straight to his duty while trying to get his revenge. Maybe when we get the next Bond movie, we can get the Bond we know back, but this one has issues to sort through, and we cannot just see him throw those to the wind just because many of us expect the same old thing even after being sick of it for so long.
"Quantum of Solace," as I'm sure you all know by now, is not the equal of "Casino Royale." That previous Bond film was easily the best one in ages, and it did set the bar higher than we had ever expected for the next Bond movie. The early reviews for Daniel Craig's second go around as 007 had me curbing my expectations before going to the theater, but I probably should stay in the habit of curtailing my expectations in general. It is a flawed Bond movie that has several problems that might derail any other movie, but what keeps it afloat is Daniel Craig's great work as Bond, and how he gives an MI6 agent who is not just going through the motions. That, and his great interplay with M, played by the always great Dame Judy Dench.

Read the Full 'Quantum of Solace' Movie Review at FilmArcade.net
Movie Review by Todd Murphy
Rating – 7/10
"Quantum of Solace" is a missed opportunity to capitalise on Daniel Craig's definitive take on James Bond from Casino Royale, leaving a film that spends a third of its time tieing up loose ends from its predecessor and the rest of the time padding itself out with intense, but ultimately undramatic action sequences.
When Daniel Craig stepped in to the role of James Bond, he created a very different, but modern and engaging character that was a major departure from all previous incarnations of James Bond. This provided a much needed boost to the franchise, and combined with a strong story and character exploration, Casino Royale proved to be one of the best Bond films ever.
With "Quantum of Solace", the grittier, tougher and less-gadgety take on the Bond universe has been thankfully continued, and for the most part, has been ratcheted up in intensity. Daniel Craig is one tough guy in this outing, playing a Bond that is driven even further by rage and revenge, but who also does not have everything go his way or everyone bowing to his whim.
In one of the best action scenes in the film, Bond chases down an informant who has infiltrated MI6 and has a bone-crunching fight which is very reminiscent of the Bourne films, and when he kills the informant, he is chastised by M (Judi Dench) for not following her instructions to bring him back alive for questioning. Director Marc Forster has established some very unique action sequences, but he has also stamped a rather unique visual style that makes this film not only different to its predecessor but also different to any other Bond film.
The use of titles, intercutting and the use of sound is welcome, with one great example being an intense shoot-out at an Italian opera between Bond and the bad guys, all intercut with the opera itself.
Daniel Craig is once again great as Bond, delivering a ruthless killer who is hell-bent on revenge. Olga Kurlyenko, who plays Bond girl Camille, manages to be both tough and cute at the same time, playing a complicated character.
Mathieu Amalric plays the chief villain Dominic Greene with a quiet, nasty intensity, without any physical characteristic as most Bond villains have (such as the weeping eye of Le Chiffre from Casino Royale). Judi Dench is also excellent once again as Bond's boss M, and the development of their not quite mother/son relationship makes for a fascinating dynamic.
This film is leaner and meaner than its predecessor, and for the first time, serves as a direct sequel rather than another adventure which makes for a different Bond experience.
It was always going to be unfair to expect this film to live up to the highwater mark of Casino Royale, but given this film had a $200 million budget and the same writing/producing team, this film should have been much better. What made Daniel Craig's first outing so good was its focus on story and character. You got to see Bond in a new light as he went through some pivotal moments in his early career which make him who he is. None of that is done justice in "Quantum of Solace".
Daniel Craig is excellent as Bond, but the script and direction do not give him any room to explore his character further (or at all), leaving us with a 2-dimensional take on the character. If anything, only Craig's presence makes Bond watchable this time around, otherwise he would have disappeared in the flurry of non-stop action sequences.
There are only a few moments where Craig gets to play with the Bond wit we've all come to know and love but those moments disappear quickly. The lack of a strong story is another major problem. At its heart, this film is only tieing up loose ends from Casino Royale. It sets up the elusive criminal organisation called "Quantum", but apart from that, the rest of the film is just action scene after action scene as Bond dispatches all the bad guys.
The experience of watching "Quantum of Solace" feels quite hollow by the time the end credits roll, leaving a Bond film which does not deliver on the new potential and energy started by its predecessor.

Read More Movie Reviews at AllAboutMovies.net
Movie Review by Will Freeman
Rating – 3 out of 10
I'll admit that I went into Quantum of Solace more or less dreading a repeat of the License To Kill debacle. All the danger signs were there, a rushed script because of a writers' strike, threats of Bond going rogue again plus the problem that great Bond films are usually followed by naff ones. The short running time wasn't encouraging, nor the bigger budget and promise of more action. Sadly, this isn't one of the great Bond films, and Casino Royale set the bar far too high for it to compete against.
The most pleasing aspect on offer is that the Bond gun barrel sequence is back. Buuuuut it's right at the end and barely lasts five seconds. The rest of the film is a tad messy, with close to no character development and little sign of a plot.
Without a story to work off, Quantum of Solace comes across as a Bond film that was stricktly made for profit, and not for the fans. I can accept the fact that Bond doesn't say his famous lines, ("Bond. James Bond" and "Shaken, not stirred") but what I can't accept is that Bond is now not Bond – he's not charming, and the good humour of the Bond character is gone. Some may say it left with Casino Royale, but this film barely shows Bond's good side. Instead, he's a character who's too wrapped up in revenge.
That being said, Daniel Craig is an excellent Bond. He could easily rank as one of the best, along with Sean Connery, if the writers would just decide if he's motivated by revenge and a generally dislikeable character or a gritty realistic character that still remains likable.
Although the acting talent shines, the editor needs to be shot. Endless, wobbly extreme close-ups are cut together too rapidly into a meaningless dirge which prohibits you from discerning anything about the nature of the action scenes.
How many cars are participating in this car chase? Will I be allowed to glimpse anyone's face in this scene other than Bond's? Will I be allowed to glimpse even Bond's face? Which boat is in front? Where is anything in relation to anything else, ever? And just what was that? That blur in front of me for the past half a second, what the hell was it? The answers to these questions respectively throughout Quantum of Solace are, 'I have no clue, no, no, I don't know, I will never know, I don't know, I still don't know.'
Quantum of Solace is perhaps not one of the great Bond films, and while I would not like to see it become the template which the Bond series will follow in the future, I look forward to the next directors take on the series.

Read More Movie Reviews at Planet Urban
---
'Quantum of Solace' Stars
Daniel Craig, Gemma Arterton, Jeffrey Wright, Judi Dench, Marc Forster, Mathieu Amalric, Olga Kurylenko, Rachel McDowall, Stana Katic
---
'Quantum of Solace' Movie Links

Official Quantum of Solace Movie Website


Quantum of Solace on IMDb