---
Repo! The Genetic Opera (2008)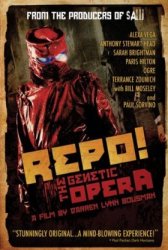 Starring: Sarah Brightman, Paul Sorvino, Paris Hilton, Bill Moseley, Anthony Head, Alexa Vega
Director: Darren Lynn Bousman
Release Date:

November 7th, 2008
Synopsis: Set in the not-so-distant future, the production tells the story of an epidemic of organ failures that devastates the planet, killing tens of millions. As scientists feverishly make plans for a massive organ harvest program, a multi-billion dollar biotech company called GeneCo begins to manufacture salvation, for a price, offering simple payment plans to those lacking the necessary funds to purchase new body parts outright. But all financed organs are subject to default procedures, including repossession at the hand of the notorious organ repo men.
Status:
Repo! The Genetic Opera Movie Trailer
About the Movie
Repo! The Genetic Opera is a 2008 American rock opera-musical film directed by Darren Lynn Bousman. The film is based on a play written and composed by Darren Smith and Terrance Zdunich.
The film opened in a limited release on November 7, 2008. Originally, it opened on seven screens in the United States cities of Pasadena; Chicago; Mobile; Charlotte; Kansas City; and Toronto and Ottawa in Canada. The film took in $3,250 per screen on its opening day. It also had a limited Canadian release, playing in Toronto from November 21 to November 27, 2008. A 22-track soundtrack was released online on September 30, 2008, with an extended version containing 38 tracks released almost exclusively for download on February 20, 2009. The DVD and Blu-ray were released January 20, 2009.
To coincide with the film's release, Bousman, Smith, and Zdunich, as well as various cast members, did a touring version of the film. Principal cast and crew also did extensive Q&A sessions following each screening. Because of strong ticket sales, a second and third touring session were added, in addition to a British tour across four locations. A Repo! Road Show was announced on January 28 in 10 cities. This show will be similar to the Repo! Road Tour, except it will be almost completely fan-run.
---
Movie Reviews
Movie Review Anthony Thurber
Score – Five Stars
Repo! The Genetic Opera" is a film that have I've been personally been looking forward to, as fan of the horror genre. But what made me more curious about the film, when Lionsgate decided to release this film on a few screens back in November. I couldn't understand why, because it's received the kind of positive buzz on the Internet, from a lot of major horror sites like Dread Central and Bloody Disgusting. The film was also gaining a cult following online, before the movie is even released.
The film takes place, in the future, where there is a worldwide epidemic of organ failure, until a biotech company finds a cure, but it's at a price and if you don't pay, your body parts and organ can be reposed, by the repo man.
The film follows Shilo Wallace (Alexis Vega), a young girl, who is forced to stay at her father in a gothic house, after inheriting a genetic disease at childbirth. Her father, Nathan Wallace (Anthony Steward Head) is very protective father, who is hiding a dark and murderous secret from her. She then begins to discover something from her mother's past, when Rotti Largo (Paul Sorvino), head of the biotech company, known as Geneco, offers her the chance, to be cured, from her disease. She will then, journey out of the house to find her cure.

Read the Full 'Repo! The Genetic Opera' Movie Review at FilmArcade.net
---
'Repo! The Genetic Opera' Stars
Alexa Vega, Anthony Head, Bill Moseley, Darren Lynn Bousman, Paris Hilton, Paul Sorvino, Sarah Brightman
---
'Repo! The Genetic Opera' Movie Links

Official Repo! The Genetic Opera Movie Website


Repo! The Genetic Opera on IMDb