---
Rise of the Guardians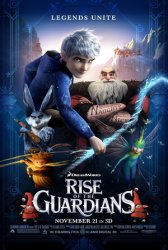 Starring: Chris Pine, Alec Baldwin, Jude Law, Isla Fisher, Hugh Jackman
Director: Peter Ramsey
Release Date:

November 21st, 2012
Release Date:

30th November, 2012
Running Time: 97 Mins
Synopsis: When the evil spirit Pitch launches an assault on Earth, the Immortal Guardians team up to protect the innocence of children all around the world.
Status:
titlexxx - Rise of the Guardians Movie Trailer
About the Movie
Rise of the Guardians is a 2012 American 3D computer-animated fantasy-adventure film based on William Joyce's The Guardians of Childhood book series and The Man in the Moon short film by Joyce and Reel FX. Peter Ramsey directed the film, while Joyce and Guillermo del Toro exec-produced. Produced by DreamWorks Animation and distributed by Paramount Pictures, it was released on November 21, 2012 to mixed to positive critical reception.
Set about 200 years after the book series, the film tells a story about the Guardians (North or Santa Claus, the Tooth Fairy, Bunnymund or the Easter Bunny, and the Sandman), who enlist Jack Frost to stop Pitch from engulfing the world in darkness. It features the voices of Chris Pine (who voices Jack Frost), Alec Baldwin (who voices Santa Claus), Hugh Jackman (who voices the Easter Bunny), Isla Fisher (who voices The Tooth Fairy) and Jude Law (who voices Pitch).
---
'Rise of the Guardians' Stars
Alec Baldwin, Chris Pine, Hugh Jackman, Isla Fisher, Jude Law, Peter Ramsey
---
'Rise of the Guardians' Movie Links

Rise of the Guardians on IMDb


Rise of the Guardians on Wikipedia