---
Rango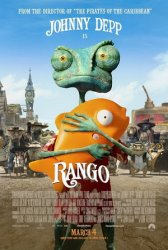 Starring: Johnny Depp, Isla Fisher, Abigail Breslin, Ned Beatty, Alfred Molina, Bill Nighy
Director: Gore Verbinski
Release Date:

March 4th, 2011
Release Date:

4th March, 2011
Running Time: 107 Mins
Synopsis: A chameleon that aspires to be a swashbuckling hero finds himself in a Western town plagued by bandits and is forced to literally play the role in order to protect it.
Status:
titlexxx - Rango Movie Trailer
About the Movie
Rango is a 2011 American computer-animated comedy film directed by Gore Verbinski and produced by Graham King. It features the voices of actors Johnny Depp, Isla Fisher, Bill Nighy, Abigail Breslin, Alfred Molina, Harry Dean Stanton, Ray Winstone, Ned Beatty, and Timothy Olyphant.
---
Movie Reviews
Movie Review from EmpireOnline.com

Every year, CGI animation gets exponentially better at such a pace critics risk running short of synonyms for 'amazing'. Rango probably looks as good as it does because Gore Verbinski and an army of processors didn't get sidetracked and chose to make something 'flat' but amazingly textured and detailed. 3D is so obligatory for animation these days it takes a few minutes to adjust to the fact that Rango doesn't make you wear glasses or throw snakes in your face … though, in every sense other than technical, it's among the most three-dimensional films of the year.

Read the Full Movie Review at EmpireOnline.com
Movie Review from TotalFilm.com

Having always been a chameleon on screen, it seems entirely fitting Johnny Depp should voice one in an animated western that reunites him with Pirates director Gore Verbinski. Yet while he makes a wizard lizard, Rango does everything but blend in among today's surfeit of family-friendly animations. In fact, younger children may be positively freaked out by a cartoon that pits its timorous beastie of a hero – a household pet stranded in the Mojave desert after he's cast out of his owner's motor – against a town full of grotesque varmints and reptilian reprobates.

Read the Full Movie Review at TotalFilm.com
Movie Review from Hollywood.com

Rango may be the latest entry in an exceedingly long line of animated flicks featuring anthropomorphized animals, but it's anything but ordinary. The long-gestating brainchild of Gore Verbinski, director of the Pirates of the Caribbean films, and the first animated feature from Industrial Light & Magic, George Lucas' visual effects firm, Rango staunchly defies many of the conventions of current mass-marketed cartoon fare. It's not in 3D; it's a family film that borrows heavily from such adult works as Chinatown and the post-modern westerns of Peckinpah and Leone.

Read the Full Movie Review at Hollywood.com
Movie Review from Guardian.co.uk

It's a brave family animation that incorporates trippy mysticism, existential self-reflection and the kind of freakish creatures that would never get past Disney's merchandising division, but this comedy-western cartoon digs its spurs into the mainstream formula. Johnny Depp creates a scene-stealing hero: a domesticated chameleon who assumes the role of sheriff in a frontier town populated by desert creatures. There's much to enjoy in the surreal dream sequences and western spoofery, with nods to everything from Sergio Leone to Blazing Saddles to Chinatown.

Read the Full Movie Review at Guardian.co.uk
Movie Review from TimeOut.com

Existential westerns are nothing new, but it's hard to recall one in which the conflicted hero was a chameleon. In this animation from 'Pirates of the Caribbean' director Gore Verbinski, Johnny Depp voices Rango, a pet and wannabe actor who is marooned in a desert and stumbles across a frontier town running low on water. Reinventing himself as a hero who killed seven outlaws with a single bullet, Rango becomes sheriff and starts to tackle the drought problem.

Read the Full Movie Review at TimeOut.com
Movie Review from Movies.com

Cleverly written and directed, and way more visually detailed than we're used to getting from non-Pixar animated features, it's the perfect left-field setting for its star. And if The Tourist hadn't hammered this point home strongly enough, here's more proof that Johnny Depp (in an animated, motion-captured performance) is at his best when he's not playing a regular human being. Sometimes, especially lately, it seems like he's coasting on lucrative-pirate-franchise-opportunity autopilot or guys-in-zany-top-hats roles.

Read the Full Movie Review at Movies.com
---
'Rango' Stars
Abigail Breslin, Alfred Molina, Bill Nighy, Gore Verbinski, Isla Fisher, Johnny Depp, Ned Beatty
---
'Rango' Movie Links

Official Rango Movie Website


Rango on IMDb


Rango on Wikipedia