---
Sarah's Key (2010)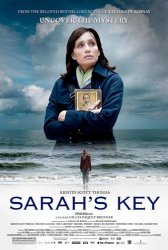 Starring: Kristin Scott Thomas, Mélusine Mayance, Niels Arestrup, Frédéric Pierrot, Michel Duchaussoy
Director: Gilles Paquet-Brenner
Release Date:

July 22nd, 2011
Release Date:

5th August, 2011
Running Time: 111 Mins
Synopsis: In modern-day Paris, a journalist finds her life becoming entwined with a young girl whose family was torn apart during the notorious Vel' d'Hiv Roundup in 1942.
Status:
titlexxx - Sarah's Key Movie Trailer
About the Movie
Sarah's Key is a French drama starring Kristen Scott Thomas and follows a journalist's present day investigation into the Vel' d'Hiv Roundup, and a story of a young girl's experiences during the Nazi occupation of France. It is an adaptation of the novel Elle s'appelait Sarah by Tatiana de Rosnay and has been critically well-received, currently holding an 88% fresh rating on the film review aggregate site Rotten Tomatoes.
---
Movie Reviews
Movie Review from EmpireOnline.com

Major déjà vu for those who saw The Round Up, Gilles Paquet-Brenner's adaptation of Tatiana de Rosnay's bestseller very similarly dramatises the notorious herding of Paris' Jews into the Vel' d'Hiv in 1942 — eventually leading to the gas chambers. Kristin Scott Thomas is a contemporary journalist researching the event, becoming obsessed with the fate of a particular family after discovering something relating to her own life.

Read the Full Movie Review at EmpireOnline.com
Movie Review from TotalFilm.com

Another nuanced turn from Kristin Scott Thomas anchors this respectful if didactic adap of Tatiana de Rosnay's bestseller. KST plays an American journo in Paris researching a story about the Vel d'Hiv raid in 1942 (recently dramatised in The Round Up) in which thousands of Jews were deported to German death camps by French authorities. Director Gilles Paquet-Brenner treats the material with appropriate restraint.

Read the Full Movie Review at TotalFilm.com
Movie Review from Guardian.co.uk

A few weeks ago, Rose Bosch's 2010 film La Rafle, or The Roundup, was released here. It was a decent attempt to dramatise one of French history's most horrifying episodes: thousands of Jews in occupied Paris in 1942 were rounded up at the Nazis' bidding, herded into a sports centre (the Winter velodrome, or Vel d'Hiv) before being sent on to the death camps.

Read the Full Movie Review at Guardian.co.uk
Movie Review from TimeOut.com

Rather depressingly, Kristin Scott Thomas has said in interviews that there's less ageism in French cinema, leading to more demanding roles for an actress in her fifties. In 'Sarah's Key', a (mostly) French-language drama, she gives yet another emotionally honest, prime-of-her-career performance. The film is adapted from a best-selling novel, knitting together – not altogether satisfyingly – two stories connected by a shameful episode in France's past: the round-up in the summer of 1942 of 13,000 Jews in Paris not by Nazis, but by French police.

Read the Full Movie Review at TimeOut.com
Movie Review from Telegraph.co.uk

Sarah's Key looks like another classy French vehicle for Kristin Scott Thomas – we get one a summer. Sadly, it's not to be trusted. The role of Julia Jarmond, an American reporter in Paris, is dismayingly routine, for all the empathy and conviction she manages to summon. Like another recent release, The Round-Up, it deals with the devastating arrest of French Jews in the summer of 1942: a young girl called Sarah (Mélusine Mayance) attempts to save her brother by locking him in the closet.

Read the Full Movie Review at Telegraph.co.uk
---
'Sarah's Key' Stars
Frédéric Pierrot, Gilles Paquet-Brenner, Kristin Scott Thomas, Michel Duchaussoy, Mélusine Mayance, Niels Arestrup
---
'Sarah's Key' Movie Links

Official Sarah's Key Movie Website


Sarah's Key on IMDb


Sarah's Key on Wikipedia