---
Saw 3D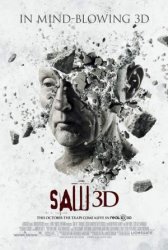 Starring: Tobin Bell, Cary Elwes, Costas Mandylor, Betsy Russell, Sean Patrick Flanery, Gina Holden
Director: Kevin Greutert
Release Date:

October 29th, 2010
Release Date:

29th October, 2010
Synopsis: As Jigsaw is revealing to Adam to be the mastermind behind all of the games, Dr. Gordon is crawling in the hall outside the bathroom to try and find help. As a deadly battle rages over Jigsaw's brutal legacy, a group of Jigsaw survivors gathers to seek the support of self-help guru and fellow survivor Bobby Dagen, a man whose own dark secrets unleash a new wave of terror.
Status:
About the Movie
Saw 3D, previously known as Saw VII, is an upcoming 3D horror film directed by Kevin Greutert, written by Patrick Melton and Marcus Dunstan, and starring Tobin Bell, Costas Mandylor, Betsy Russell, Sean Patrick Flanery and Cary Elwes. It is the seventh and final installment of the Saw film series, and the first shot in 3D.
An eighth installment was planned, but the decrease in the box office performance for Saw VI compared to previous installments, led to Saw 3D being the final film in the series, and the plot concept for Saw VIII being incorporated into Saw 3D. Saw V director David Hackl was to direct the film, but two weeks before filming Lionsgate announced that Greutert, who directed the sixth film, would direct.
Principal photography took place in Toronto from February to April 2010 and was shot with the SI-3D digital camera system, as opposed to shooting with traditional cameras and later transferring to 3D in post-production. Saw 3D was originally scheduled to be released on October 22, 2010, but was pushed back a week to October 29, 2010. The film was initially rated NC-17 (no children 17 and under admitted) by the Motion Picture Association of America (MPAA) and had be to submitted six times to finally receive an R rating.
---
Movie Reviews
Movie Review from EmpireOnline.com

This year's Saw is in 3D, which makes for some buzzsaw-in-your-face and guts-splattered-on-your-glasses action, but is one of the less satisfying entries in the hardy franchise, and certainly a step down from last year's much more pointed Saw VI. Cary Elwes, the doctor who lost a foot back in Saw, returns to the series (cuing another explanatory montage that fills in more of the evolving backstory) and something we've been threatened with ever since the first film finally happens (spectacularly and messily).

Read the Full Movie Review at EmpireOnline.com
Movie Review from TotalFilm.com

The Saw franchise continues to be one of the most divisive horror series ever, maligned as crass commercial trash by horror purists but beloved by less obsessed thrill-seekers. Saw 3D – improbably touted as the 'final' film in the series – will do little to inch either camp in a different direction. The story involves author Bobby Dagen (Sean Patrick Flanery), a rare survivor of one of the deadly traps set by the morally dubious puzzle-box killer Jigsaw (Tobin Bell). Dagen's used his story to become a successful self-help guru, much to the chagrin of now-dead Jigsaw's shadowy minions.

Read the Full Movie Review at TotalFilm.com
Movie Review from Movies.com

All marketing materials point to this being the last of the series. Except it still ends in that "Golly, what a surprise that is" way. The way all the Saw movies end. Because if this one takes in a lot of cash they'll decide that it isn't time to say goodbye just yet. And that's really the problem with all the Saw movies from #2 until now; they're nothing but contracts signed and checks cashed. The death machines have been intermittently gut-splosiony enough to satisfy gorehounds like me, but they've taken on a blurry sameness that make you yawn instead of yell.

Read the Full Movie Review at Movies.com
---
'Saw 3D' Stars
Betsy Russell, Cary Elwes, Costas Mandylor, Gina Holden, Kevin Greutert, Sean Patrick Flanery, Tobin Bell
---
'Saw 3D' Movie Links

Official Saw 3D Movie Website


Saw 3D on IMDb