---
Shrek Forever After (2010)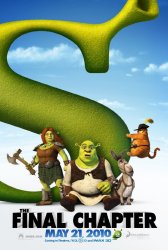 Starring: Cameron Diaz, Jane Lynch, Antonio Banderas, Eddie Murphy, Jon Hamm, Mike Myers, Craig Robinson, Julie Andrews
Director: Mike Mitchell
Release Date:

May 21st, 2010
Release Date:

9th July, 2010
Synopsis: A bored and domesticated Shrek pacts with deal-maker Rumpelstiltskin to get back to feeling like a real ogre again, but when he's duped and sent to a twisted version of Far Far Away – where Rumpelstiltskin is king, ogres are hunted, and he and Fiona have never met – he sets out to restore his world and reclaim his true love.
Status:
Shrek Forever After Movie Trailer
About the Movie
Shrek Forever After, formerly known as Shrek 4, Shrek 4Ever After, Shrek: The Final Chapter, and previously titled Shrek Goes Fourth is an upcoming American 2010 animated film. It is planned to be released in cinemas May 21, 2010 in the US and July 9, 2010 in the UK. Tim Sullivan will write the film, and Mike Mitchell will direct it. The principal cast members will all reprise their roles. It will also be released in 3-D and IMAX 3-D theaters. The plot was announced February 23, 2009.
This movie will be the final film in the Shrek series, following Shrek, Shrek 2 and Shrek the Third despite early allegations by filmmakers to make a fifth film. Like the first three Shrek films, the movie will be significantly based on fairy tale themes.
---
'Shrek Forever After' Stars
Antonio Banderas, Cameron Diaz, Craig Robinson, Eddie Murphy, Jane Lynch, Jon Hamm, Julie Andrews, Mike Mitchell, Mike Myers
---
'Shrek Forever After' Movie Links

Official Shrek Forever After Movie Website


Shrek Forever After on IMDb