---
Source Code (2011)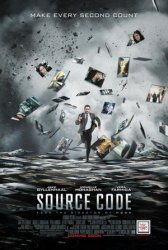 Starring: Jake Gyllenhaal, Michelle Monaghan, Vera Farmiga, Jeffrey Wright, Russell Peters, James A. Woods
Director: Duncan Jones
Release Date:

April 1st, 2011
Release Date:

1st April, 2011
Running Time: 93 Mins
Synopsis: When decorated soldier Captain Colter Stevens wakes up in the body of an unknown man, he discovers he's part of a mission to find the bomber of a Chicago commuter train. In an assignment unlike any he's ever known, he learns he's part of a government experiment called the Source Code, a program that enables him to cross over into another man's identity in the last 8 minutes of his life.
Status:
titlexxx - Source Code Movie Trailer
About the Movie
Source Code is an upcoming American techno-thriller film directed by Duncan Jones, starring Jake Gyllenhaal, Michelle Monaghan, Vera Farmiga and Jeffrey Wright.
It is set for release on April 1, 2011 in North America by Summit Entertainment.
---
Movie Reviews
Movie Review from EmpireOnline.com

If anything holds back science-fiction as a film genre, it's the tendency of big-studio thinking to use the genre as a disguise for other kinds of movie. Even classics of science-fiction cinema turn out to be Westerns, horror films or swashbuckling fantasy adventure dressed up with rayguns, spaceships and aliens. The theory goes that audiences don't want to think too much, and science-fiction is a literature of ideas — so do a cop shoot-out on an abandoned asteroid or a mismatched partner romcom with a neurotic single chick and a handsome robot rather than risk something head-scratching.

Read the Full Movie Review at EmpireOnline.com
Movie Review from TotalFilm.com

Christopher Nolan's gift for combining brainscrambling narratives with pulse-racing action and jaw-crashing visuals has rightly crowned him the king of high-concept think-busters. Yet if Source Code is anything to go by, the Dark Knight dude could face a challenge for that prestigious title (we just invented). His competition? One Duncan Jones, whose gripping follow-up to lunar puzzler Moon mirrors the seismic jump Nolan made between his monochrome 1998 indie Following and 2000's brilliant Memento and should likewise propel Jones into the Hollywood big-leagues.

Read the Full Movie Review at TotalFilm.com
Movie Review from Hollywood.com

In Duncan Jones's sci-fi thriller Source Code, Jake Gyllenhaal plays Captain Colter Stevens, a U.S. Army helicopter pilot who awakens after an enemy ambush to find himself sitting on a Chicago-bound commuter train, surrounded by strangers, with absolutely no idea how he got there. As he struggles to process his strange new milieu, he's pestered with small-talk by a perky fellow-passenger (Michelle Monaghan) whom he doesn't recognize, but who clearly seems to know him.

Read the Full Movie Review at Hollywood.com
Movie Review from Guardian.co.uk

With his debut movie Moon, Duncan Jones made a mighty leap; now with this superb follow-up, he has hit the ground sprinting. Source Code is a terrifically exciting and hugely enjoyable sci-fi thriller, written by Ben Ripley. For pure entertainment, there's nothing around to touch it. Source Code is about conspiracies, altered minds and altered states, far-fetched in the most elegant and Hitchcockian way, and the sheer outrageousness of it all is muscular and streamlined.

Read the Full Movie Review at Guardian.co.uk
Movie Review from TimeOut.com

Based on a hardcore sci-fi premise, but staged with a Hitchcockian lightness that injects romance and humour into a potentially bleak terrorist bomb scenario, this second film from the director of 'Moon' is an emotionally engaging time-travel puzzle piece. It may not be 'Un film de Duncan Jones', but it is an efficient, entertaining thriller that features several striking signature sequences and some smart conceptual ideas. Jake Gyllenhaal is edgy and engaging as confused Blackhawk helicopter pilot Captain Colter Stevens.

Read the Full Movie Review at TimeOut.com
Movie Review from Movies.com

Duncan Jones is the man behind this thing and he's a name worth getting to know. He made the mind-scratching space odyssey Moon with Sam Rockwell—a movie that needs to be in your Netflix queue--and this, his second feature (one featuring a significantly bigger budget), is fast, cool, exciting and smart in ways you won't expect. The mechanics are very Inceptiony and Avatarish and on trend, with semi-confusing explanations/non-explanations for how Gyllenhaal can be manipulating future reality by retreating into the past in his mind.

Read the Full Movie Review at Movies.com
Movie Review from Telegraph.co.uk

The clever, melancholy Moon proved there was more to Duncan (Zowie Bowie) Jones than just a very famous dad. But is there more to him than Moon? He takes a Hollywood gig on the twistily daft sci-fi thriller Source Code, which dabbles in a not dissimilar existential crisis. Jones's heroes are trapped in isolation booths questioning the nature of their own reality, but this one feels more like a makeshift booby-hatch, decked out with narrative emergency exits everywhere you look.

Read the Full Movie Review at Telegraph.co.uk
---
'Source Code' Stars
Duncan Jones, Jake Gyllenhaal, James A. Woods, Jeffrey Wright, Michelle Monaghan, Russell Peters, Vera Farmiga
---
'Source Code' Movie Links

Official Source Code Movie Website


Source Code on IMDb


Source Code on Wikipedia