---
Star Trek Into Darkness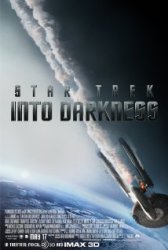 Starring: Benedict Cumberbatch, Chris Pine, Zoe Saldana, Alice Eve, Karl Urban, Zachary Quinto, Simon Pegg
Director: J.J. Abrams
Release Date:

May 17th, 2013
Release Date:

9th May, 2013
Running Time: 132 Mins
Synopsis: After the crew of the Enterprise find an unstoppable force of terror from within their own organization, Captain Kirk leads a manhunt to a war-zone world to capture a one man weapon of mass destruction.
Status:
Star Trek Into Darkness Movie Trailer
About the Movie
Star Trek Into Darkness is an upcoming American science fiction action film directed by J. J. Abrams, written by Roberto Orci, Alex Kurtzman, and Damon Lindelof, and produced by Abrams, Bryan Burk, Lindelof, Kurtzman, and Orci. It is the twelfth Star Trek film and serves as the sequel to 2009′s Star Trek.
Most of the crew of the previous film are returning, including director and producer Abrams and his regular collaborators: composer Michael Giacchino, cinematographer Daniel Mindel, and editors Maryann Brandon and Mary Jo Markey. Kurtzman and Orci are returning as screenwriters (and now also producers), while Lindelof returns as producer and now also acts as co-writer. Chris Pine, Zachary Quinto, Karl Urban, Zoe Saldana, Anton Yelchin, Simon Pegg, John Cho, and Bruce Greenwood return to reprise their roles from the previous film, with the addition of Benedict Cumberbatch and Alice Eve to the cast.
Filming began in January 2012. The film was shot entirely in California. The film is scheduled to be released on May 9, 2013 in the UK and parts of Europe with other dates internationally. It will be released in the USA on May 15, 2013 in large format theaters, two days before its general wide release on May 17.
---
'Star Trek Into Darkness' Stars
Alice Eve, Benedict Cumberbatch, Chris Pine, J.J. Abrams, Karl Urban, Simon Pegg, Zachary Quinto, Zoe Saldana
---
'Star Trek Into Darkness' Movie Links

Star Trek Into Darkness on IMDb


Star Trek Into Darkness on Wikipedia