---
Star Trek (2009)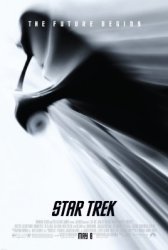 Starring: Chris Pine, Zachary Quinto, Eric Bana, Simon Pegg, Winona Ryder, Karl Urban, John Cho, Zoe Saldana, Bruce Greenwood, Ben Cross, Anton Yelchin, Leonard Nimoy
Director: J.J. Abrams
Release Date:

May 8th, 2009
Release Date:

8th May, 2009
Synopsis: On the day of James Kirk's birth, his father dies on his ship in a last stand against a mysterious alien vessel. He was looking for Ambassador Spock, who is a child on Vulcan at that time, disdained by his neighbors for his half-human nature. Twenty years later, Kirk has grown into a young troublemaker inspired by Capt. Christopher Pike to fulfill his potential in Starfleet even as he annoys his instructors like young Lt. Spock. Suddenly, there is an emergency at Vulcan and the newly commissioned USS Enterprise is crewed with promising cadets like Nyota Uhura, Hikaru Sulu, Pavel Chekov and even Kirk himself thanks to Leonard McCoy's medical trickery. Together, this crew will have an adventure in the final frontier where the old legend is altered forever even as the new version of it is just beginning.
Status:
About the Movie
Star Trek is a 2009 science fiction film directed by J. J. Abrams and written by Roberto Orci and Alex Kurtzman. It is the eleventh film based on the Star Trek franchise and features the main characters of the original Star Trek television series, who are portrayed by a new, younger cast. The film follows James T. Kirk (Chris Pine) and Spock (Zachary Quinto), before they unite aboard the USS Enterprise to combat Nero (Eric Bana), a Romulan from the future who threatens the United Federation of Planets. The time-travel story establishes an alternate reality, freeing the film and the whole franchise from continuity constraints.
Development of the film began in 2005 when Paramount Pictures contacted Abrams, Orci and Kurtzman for ideas to revive the franchise. The creative team contrasted Orci and Lindelof, who consider themselves "Trekkies", with casual fans like Abrams, who all aimed to create a film that would interest a general audience. They wanted to be faithful to the Star Trek canon, but they also introduced elements of their favorite novels, modified continuity with the time-travel storyline, and modernized the production design of the original show. Filming took place from November 2007 to March 2008 under intense secrecy. Midway through the shoot, Paramount chose to delay the release date from December 25, 2008 to May 2009, believing the film could reach a wider audience.
---
'Star Trek' Stars
Anton Yelchin, Ben Cross, Bruce Greenwood, Chris Pine, Eric Bana, J.J. Abrams, John Cho, Karl Urban, Leonard Nimoy, Simon Pegg, Winona Ryder, Zachary Quinto, Zoe Saldana
---
'Star Trek' Movie Links

Official Star Trek Movie Website


Star Trek on IMDb