---
The Bourne Legacy (2012)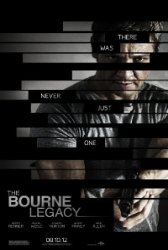 Starring: Jeremy Renner, Scott Glenn, Stacy Keach, Edward Norton, Donna Murphy
Director: Tony Gilroy
Release Date:

August 10th, 2012
Release Date:

13th August, 2012
Running Time: 135 Mins
Synopsis: An expansion of the universe from Robert Ludlum's novels, centered on a new hero whose stakes have been triggered by the events of the previous three films.
Status:
About the Movie
The Bourne Legacy is a 2012 American action thriller film directed by Tony Gilroy. The film stars Jeremy Renner, Rachel Weisz, and Edward Norton. In The Bourne Legacy, Aaron Cross, a member of a black ops program whose agents are genetically enhanced, goes on the run once Bourne's actions lead to the public exposure of Operations Treadstone and Blackbriar.
It is the fourth installment in the Bourne film series, which is based on Robert Ludlum's Jason Bourne series. Titular character Jason Bourne does not appear in The Bourne Legacy, as actor Matt Damon, who played Bourne in the first three films, chose not to return for a fourth film, however there are various pictures of Damon as Bourne seen throughout the film. Gilroy, co-screenwriter of the first three films, sought to continue the story of the film series without changing its events, and parts of The Bourne Legacy take place at the same time as the previous film The Bourne Ultimatum (2007). The Bourne Legacy was filmed primarily in New York, with some scenes filmed in the Philippines, South Korea, and Canada. It was theatrically released on August 10, 2012, in the United States.
The film uses the same title as The Bourne Legacy, a later Bourne novel written by Eric Van Lustbader; however, this film has absolutely no ties to Robert Ludlum's Bourne franchise.
---
'The Bourne Legacy' Stars
Donna Murphy, Edward Norton, Jeremy Renner, Scott Glenn, Stacy Keach, Tony Gilroy
---
'The Bourne Legacy' Movie Links

The Bourne Legacy on IMDb


The Bourne Legacy on Wikipedia