---
The Chronicles of Narnia: The Lion, the Witch and the Wardrobe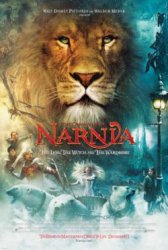 Starring: Georgie Henley, Skandar Keynes, William Moseley, Anna Popplewell, Tilda Swinton, James McAvoy, Jim Broadbent
Director: Andrew Adamson
Release Date:

December 9th, 2005
Release Date:

8th December, 2005
Synopsis: C.S. Lewis' timeless adventure follows the exploits of the four Pevensie siblings - Lucy, Edmund, Susan and Peter - in World War II England who enter the world of Narnia through a magical wardrobe while playing a game of hide-and-seek in the rural country home of an elderly professor. Once there, the children discover a charming, peaceful land inhabited by talking beasts, dwarfs, fauns, centaurs and giants that has become a world cursed to eternal winter by the evil White Witch, Jadis. Under the guidance of a noble and mystical ruler, the lion Aslan, the children fight to overcome the White Witch's powerful hold over Narnia in a spectacular climactic battle that will free Narnia from Jadis' icy spell forever.
Status:
The Chronicles of Narnia: The Lion, the Witch and the Wardrobe Movie Trailer
About the Movie
The Chronicles of Narnia: The Lion, the Witch and the Wardrobe is a 2005 epic fantasy adventure film directed by Andrew Adamson and based on The Lion, the Witch and the Wardrobe, the first published and second chronological novel in C. S. Lewis's children's epic fantasy series, The Chronicles of Narnia. It was produced by Walden Media and distributed by Walt Disney Pictures. William Moseley, Anna Popplewell, Georgie Henley and Skandar Keynes play Peter, Susan, Lucy and Edmund, four British children evacuated during the Blitz to the countryside, who find a wardrobe that leads to the fantasy world of Narnia. There they ally with the Lion Aslan (voiced by Liam Neeson) against the forces of Jadis, the White Witch (Tilda Swinton).
The film was released on December 9, 2005 in both Europe and North America to positive reviews and was highly successful at the box office. It won the 2005 Academy Award for Best Make Up and various other awards and is the first film in the series of films based on the books. An Extended Edition was released on December 12, 2006 and was only made available on DVD until January 31, 2007 when it was discontinued. It was the best selling DVD in North America in 2006 taking in $332.7 million that year. It aired on Disney Channel, uninterrupted by commercials, on June 19, 2009. On ABC Family, the film is presented in its extended version whereas other channels present it in its theatrical version. In 2008, it was followed by a sequel entitled Prince Caspian.
---
'The Chronicles of Narnia: The Lion, the Witch and the Wardrobe' Stars
Andrew Adamson, Anna Popplewell, Georgie Henley, James McAvoy, Jim Broadbent, Skandar Keynes, Tilda Swinton, William Moseley
---
'The Chronicles of Narnia: The Lion, the Witch and the Wardrobe' Movie Links

The Chronicles of Narnia: The Lion, the Witch and the Wardrobe on IMDb